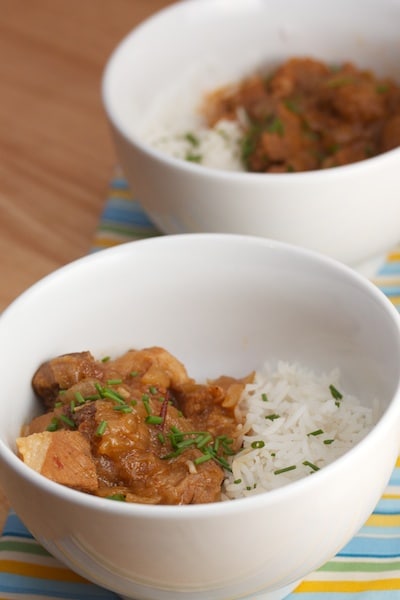 Smokin' Chipotle Pork Stew
This post may contain affiliate links. Thank you for supporting the brands that keep me creative in my tiny kitchen!
This is another recipe that I chose to use up some of the chipotles that I had left in the fridge. It was a spicy, hearty stew, that really warmed us up. I took note of some of the reviews that said this had too much spice, so I only used 4 peppers and 2 tablespoons adobo sauce. Also, it was impossible to find a pork shoulder that was boneless OR less than 4 pounds, so I bought a big package and cut off a pound and a half, and froze the rest. I served it with some leftover rice from a few nights ago.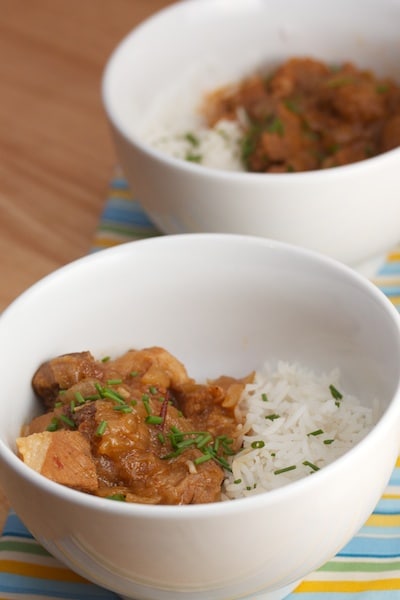 Smokin' Chipotle Pork Stew
Gourmet August 2008
2 tablespoons olive or vegetable oil
1 1/2 pounds boneless pork shoulder, cut into one-inch cubes
2 medium onions, diced
1 (12-ounce) bottle or can beer
5 to 7 chipotle peppers in adobo sauce plus 3 tablespoons adobo sauce
2 teaspoons ground cumin, or to taste
Salt and freshly ground pepper, to taste
1. Heat a large Dutch oven over medium-high heat until very hot, about two minutes. Add the oil. Add the pork and cook, in batches if necessary, until browned on all sides. Transfer the pork to a bowl and set aside.
2. Reduce the heat to low. Add the onions, stirring to scrape up the browned bits from the bottom of the pot. Cover with a tight-fitting lid and cook, stirring occasionally, until the onions are golden and slightly browned around the edges, about 10 minutes. Add the reserved pork, beer, chipotles, adobo sauce, cumin, salt, and pepper; stir until combined. Simmer, covered, stirring occasionally, until the pork is fork-tender, about 1 1/2 hours.
Tip: Serve this dish as a stew or transfer the pork to a cutting board. With two forks, shred the chunks into small pieces and use as a filling for tacos or sandwiches.
Big Flavors Rating: 4 Stars