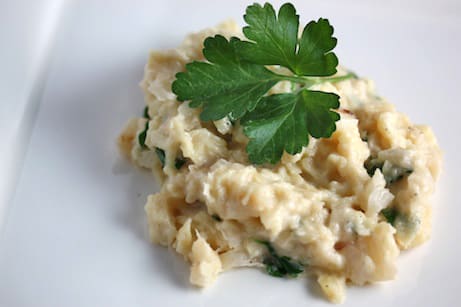 Smashed Parsnips with Mascarpone Cheese
This post may contain affiliate links. Thank you for supporting the brands that keep me creative in my tiny kitchen!
I was catching up on my DVR over the weekend, and I saw an episode of Big Daddy's House that had this recipe along with some stuffed veal chops. I immediately tracked them down on Food Network's website (which is ridiculous to navigate – the shows aren't even listed in alphabetical order in the "browse by show" section…I mean REALLY…who's in charge over there?!). Anyway, these turned out great! They were nice and different for a side dish, but a little too sweet. I still took 2 helpings though…so they weren't too sweet!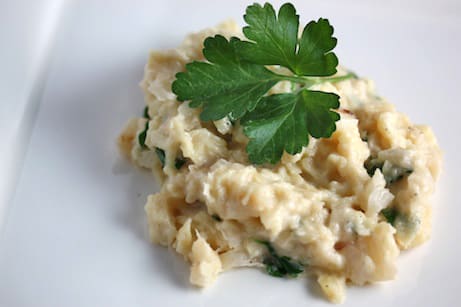 Smashed Parsnips with Mascarpone Cheese
Big Daddy's House – Aaron McCargo, Jr.
Yield: 4 to 6 servings
Prep: 10 min
Cook: 20 min
Total: 30 min
1 lb. parsnips, peeled and cut into 1-inch pieces
2 tablespoons butter
3 tablespoons sugar
½ onion, diced
½ cup mascarpone
¼ cup freshly chopped parsley leaves
1 ½ teaspoons salt
1 teaspoon freshly ground black pepper
Bring a large pot of water to a boil and add the parsnips. Cook until the parsnips are tender, about 10 minutes. Drain.
Heat a pot over medium-high heat and add the butter and sugar. Allow to melt together. Add onions and saute until caramelized, 6 minutes.
Add parsnips to pot. Turn heat off and add the mascarpone. Stir together and mash, adding parsley, salt and pepper.
MacGourmet Rating: 4 Stars