This post may contain affiliate links, which won't change your price but will share some commission.
When I saw this recipe for making wings in the slow cooker, I was intrigued. Especially since it has been so hot outside - I'm looking to minimize oven use any way I can lately. These were pretty easy to put together, but you need to be around to turn them a few times while they cook. I really liked the flavor, but wasn't too crazy about the texture of the skin. Dino thought the texture of the chicken was gummy, and thought it was too sweet. They're definitely sweet, but it wasn't too much for me. I opted to reduce the sauce on the stove top, because I've never had luck with reducing a sauce in the slow cooker.The meat fell right off the bones, so they were a bit tricky to eat. Looking back at the site that I found these on, they were adapted from Farm Girl Gourmet, who used chicken legs without the skin and fresh ginger, both of which I think I would have preferred. Still, this was a really tasty recipe. I think it would be nice with big pieces of chicken, shredded, and put into sliders, too. Maybe with a little slaw of sorts on top, to balance out the sweetness a bit.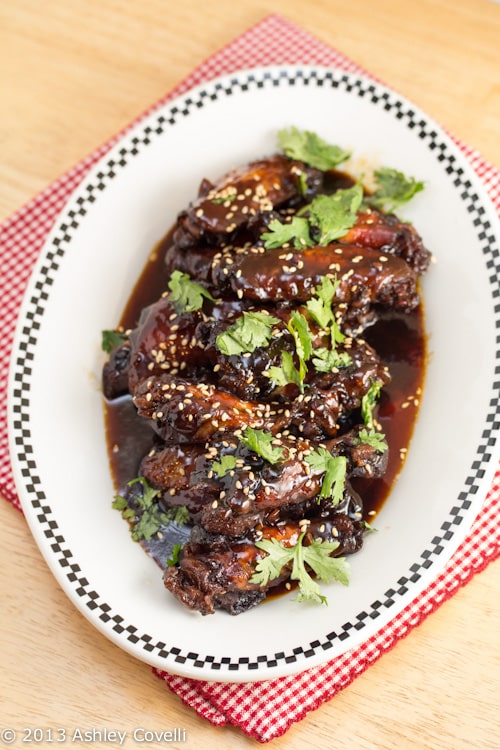 Slow Cooker Sticky Chicken Wings
Six Sisters Stuff, slightly adapted from Farm Girl Gourmet
½ cup honey
½ cup brown sugar
⅓ cup balsamic vinegar
⅓ cup soy sauce**
3 garlic cloves, minced
1 teaspoon ground ginger
1 teaspoon sriracha (or your favorite hot sauce)
black pepper
15-20 chicken wings
1 tablespoon cornstarch
1 tablespoon water
fresh cilantro
sesame seeds
In a sauce pan add the honey, brown sugar, balsamic vinegar, soy sauce, garlic, ginger, sriracha and season to taste with black pepper.
Bring the mix to a boil, then lower the temperature and simmer for 5 minutes (until the sugars have dissolved and the sauce is beginning to thicken). Remove from heat and allow to cool for a few minutes.
Spray the crock pot with non-stick cooking spray and place the chicken inside. Pour the sauce over the chicken and move the chicken around a bit with tongs so that it is completely coated with sauce. Put the lid on and cook on high for 4 hours, flipping chicken a couple of times during the cooking process.
Once finished cooking, remove the chicken pieces and place on a plate. In a small bowl, mix together the cornstarch and water, then pour into the crock pot with the leftover sauce. Mix together well, place chicken back into the slow cooker, and let cook for about 10 minutes (or until the sauce starts to thicken up*). Just before serving, sprinkle with torn cilantro leaves and sesame seeds.
*If you want to speed up this process, pour the sauce into a saucepan and cook on the stovetop for just a couple of minutes, until the sauce thickens.
**Optional: use Gluten Free
Big Flavors Rating: 4 Stars