This post may contain affiliate links, which won't change your price but will share some commission.
I need to make this dish again. You see, it smelled FABULOUS while it was cooking. It was easy to put together and very different from most slow cooker recipes I've made in the past.
But there was an issue - the recipe didn't specify that the coconut cream (which is different than coconut milk) should be UNSWEETENED. And I didn't think to get unsweetened (which I would have had to get from a specialty store) and it made the dish inedible. It was such a shame, because I could tell it would have been wonderful.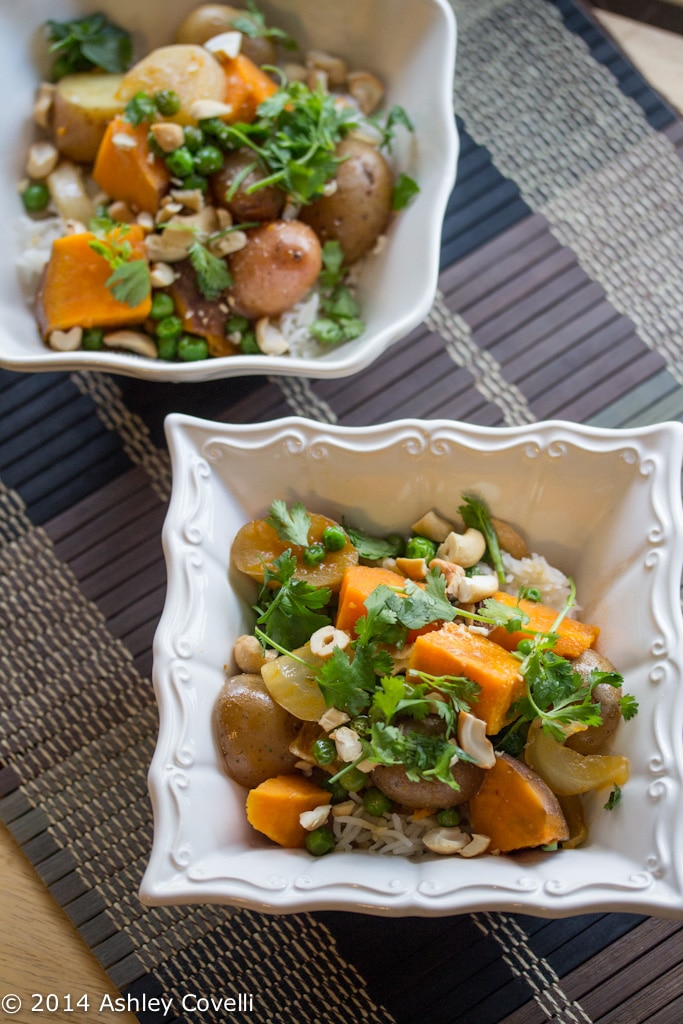 The smell was very reminiscent of Massaman curry. I used a mix of red and white new potatoes to go with the sweet potatoes, and the texture was absolutely perfect! We just could.not.get.past.the.sweetness.
So here's the recipe, which I will make again sometime. I encourage you to give it a try - just make sure to get the right ingredients!
Potatoes and Peas in Red Curry Sauce
The Gourmet Vegetarian Slow Cooker: Simple and Sophisticated Meals from Around the World - Lynn Alley
Serves 4
2 pounds small red or yellow potatoes, cut into 1 ½-inch pieces if necessary
1 yellow onion, sliced vertically into sections
1 can (about 14 ounces) coconut cream (see note above)
2 to 3 tablespoons red curry paste**
2 tablespoons palm sugar or brown sugar
1 teaspoon soy sauce*
1 large sweet potato, peeled and cut into 1 ½-inch pieces
1 cup fresh or frozen green peas
Salt to taste
½ cup dry-roasted cashews, for garnish
¼ cup chopped fresh cilantro leaves, for garnish
Wash the potatoes thoroughly and place them, along with the onion, in the slow cooker insert.
Mix the coconut cream, red curry paste, sugar, and soy sauce together and pour over the potatoes. Cover and cook on low for about 3 hours, or until the potatoes are somewhat tender when pierced with a fork.
Add the sweet potato, cover, and continue to cook on low for another 2 to 3 hours, or until all the vegetables are tender. Add the peas along with salt to taste and continue to cook, uncovered, for 15 minutes longer.
To serve, sprinkle each portion with 1 to 2 tablespoons cashes and some cilantro.
*Can substitute Gluten Free
**Check ingredients if making vegetarian/vegan - some brands contain shrimp paste and/or dairy
Big Flavors Rating: Pending