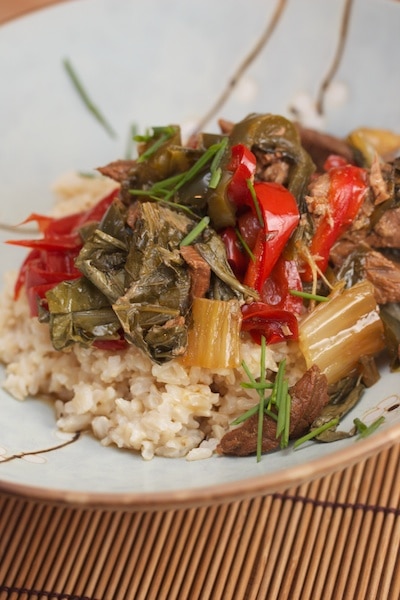 This post may contain affiliate links. Thank you for supporting the brands that keep me creative in my tiny kitchen!
I saw this slow-cooker dish over at A Year of Slowcooking and thought it sounded perfect for a Monday night dinner. I love using my slow cooker, but haven't found a ton of great recipes still. There are some that I absolutely love, and I think if I tweaked it to make it spicy, it would be in regular rotation. The meat is incredibly tender, and the peppers and bok choy hold up well, even though they cook all day. I served this on top of brown rice, and we drizzled some soy sauce and Sriracha on top to pump up the flavor. This is definitely an easy recipe – I even cut up the veggies last night and put them in a container in the fridge so that when I got up this morning, all I'd have to do is dump the meat and the veggies in the slow cooker and go! The flavor isn't overly orangey, but nice and sweet. The only change I made was to use regular soy sauce.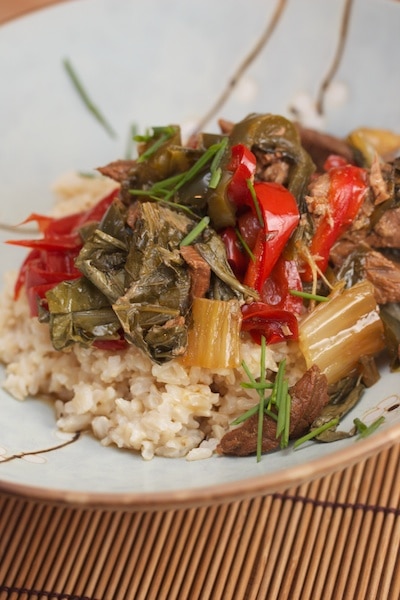 Slow Cooker Orange Beef
A Year of Slowcooking
serves 4
1 1/2 pounds beef round steak, sliced or beef stir fry strips
1/4 cup gluten free soy sauce
2 teaspoons ground ginger
3 tablespoons honey
1/2 cup orange juice
1 red bell pepper, seeded and sliced
1 green bell pepper, seeded and sliced
6 green onions, sliced
1 small head bok choy, cut in 1-inch chunks
cooked white or brown basmati rice for serving
For absolute best results, marinate the meat the night before in a plastic bag with the sauce ingredients: soy sauce, honey, ginger, and orange juice. In the morning, dump the contents into an empty cooker and add the vegetables on top.
Cover and cook on low for 6 to 7 hours, high for 3-4, or until meat is fully cooked and super tender. Stir fry meat can sometimes be tough—cook until it's really soft and pliable. Serve over rice with the juice from the slow-cooker.
Big Flavors Rating: 4 Stars