This post may contain affiliate links, which won't change your price but will share some commission.
I thought it would be nice to have breakfast waiting for us in the morning, so I looked up a recipe that would let us use up some more apples from our stash. This didn't really work out too well for us, though. It was partially because I left it in the slow cooker longer than directed. I definitely like my steel cut oats to have some bite to them, but I sleep for more than 6 hours at night, and I don't have a delay option on my slow cooker. I set it for 6 hours on low, and then it went to the keep warm setting. It ended up being really overcooked. We also needed to add honey to it after it cooked, because it wasn't sweet enough for us. I think the oats would have been tastier if they were cooked with milk… it was kind of bland. This is a good idea in theory, but it just didn't work out.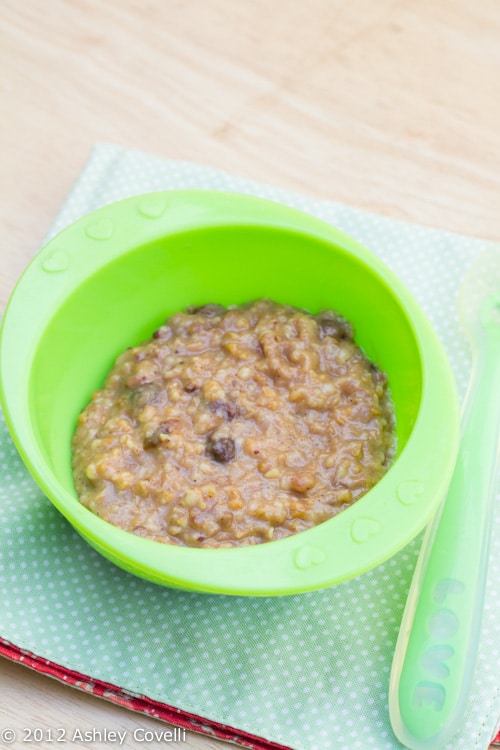 Slow-Cooker Oats
Allrecipes – brandysue
"I just can't get up in the morning to make my hubby breakfast before he leaves for work, so I put this in the slow cooker the night before, and breakfast is served! A hearty breakfast that's easy to do."
6 servings
1 cup steel cut oats
3 1/2 cups water
1 cup peeled and chopped apple
1/2 cup raisins
2 tablespoons butter
1 tablespoon ground cinnamon
2 tablespoons brown sugar
1 teaspoon vanilla extract
Place the steel cut oats, water, apple, raisins, butter, cinnamon, brown sugar, and vanilla extract into a slow cooker, and stir to combine and dissolve the sugar. Cover the cooker, set to Low, and allow to cook 6 to 7 hours (for firm oats) or 8 hours (for softer texture).
Cook's Note
Important: Use steel cut oats or this will be a mushy mess. Also, if your slow cooker cooks too high, cook on the warm setting.
Big Flavors Rating: 3 Stars