This post may contain affiliate links, which won't change your price but will share some commission.
I was in the cookbook section at my local library a few weeks ago, and I told my son to pick out a book. I didn't think he'd actually pick anything I'd be interested in - I was more trying to keep him busy while I perused the shelves.
When he grabbed this one and ran over to me, I figured it would be perfect! A book dedicated to traveling the world with your slow cooker sounded perfect, especially with the warmer weather approaching. I knew I'd be able to find things to make from it while my stovetop was out of commission, too.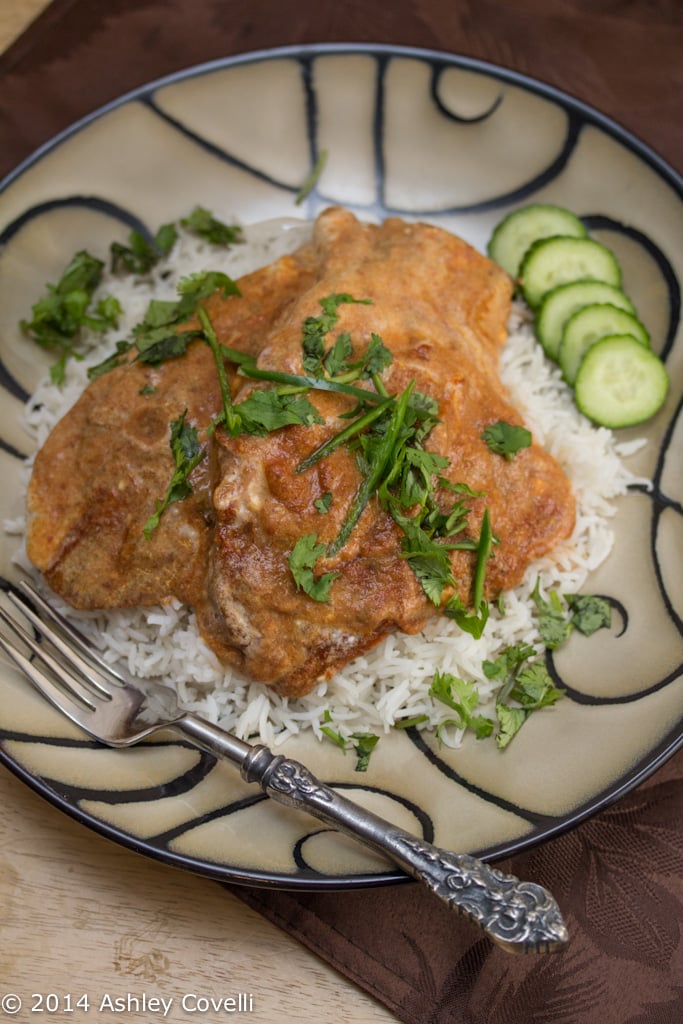 It's not the prettiest dish out there, but the flavor was great! My eggplant was a little too bitter for our taste, but I don't think that has to do with the recipe. In the book, the author says that this is also great made with diced eggplant, used as a pasta sauce.
We really enjoyed the flavor of the sauce from this dish. The flavor of the cloves really comes through, which I really dug. I served it over basmati with more yogurt on the side (because I do that to almost all of my Indian/Middle Eastern dishes - yum!).
The eggplant was cooked well, but it was difficult to stir in the yogurt, and the bitterness kept us from enjoying it more. This definitely has potential though, and I'd love to try the sauce on other meats/veggies in the future.
Mogul Eggplant
The Gourmet Vegetarian Slow Cooker: Simple and Sophisticated Meals from Around the World - Lynn Alley
1 teaspoon cumin seeds
6 whole cloves
1 tablespoon peeled, minced fresh ginger
2 teaspoons minced garlic
2 small eggplants, peeled and sliced into quarters vertically
2 teaspoons garam masala
1 teaspoon ground turmeric
1 tablespoon paprika
¼ teaspoon cayenne (optional)
1 (28-ounce) can crushed tomatoes
2 cups plain yogurt
salt to taste
¼ cup chopped fresh cilantro leaves, for garnish
2 fresh serrano chiles, seeded and deveined, for garnish
In an electric coffee mill or a mortar and pestle, grind the cumin seeds and cloves to a fine powder. Add the ginger and garlic and continue to grind until a powdery paste forms.
Place the eggplant slices in the slow cooker insert.
In a bowl, combine the ground spice-ginger mixture, garam masala, turmeric, paprika, cayenne, and crushed tomatoes, mix thoroughly, and then pour the spiced sauce over the eggplant slices, spreading it evenly over them.
Cover and cook on low for about 4 hours, or until the eggplant is tender and cuts easily. When the eggplant is done, turn off the heat, remove the lid, and allow the dish to sit for 10 minutes. Carefully mix in the yogurt and add salt to taste.
Serve hot, sprinkling the fresh cilantro and chiles over the top of the eggplant.
Big Flavors Rating: 3 Stars