This post may contain affiliate links, which won't change your price but will share some commission.
This dish is kind of like a Lebanese spin on ratatouille. It's easy to assemble and only needs to cook for 3-4 hours in the slow cooker.
I don't use whole allspice berries too often, and liked the fragrant pairing with cinnamon and pepper. The dish turned out fine, but wasn't anything special. It didn't feel like a "stew" to me, which was kind of disappointing.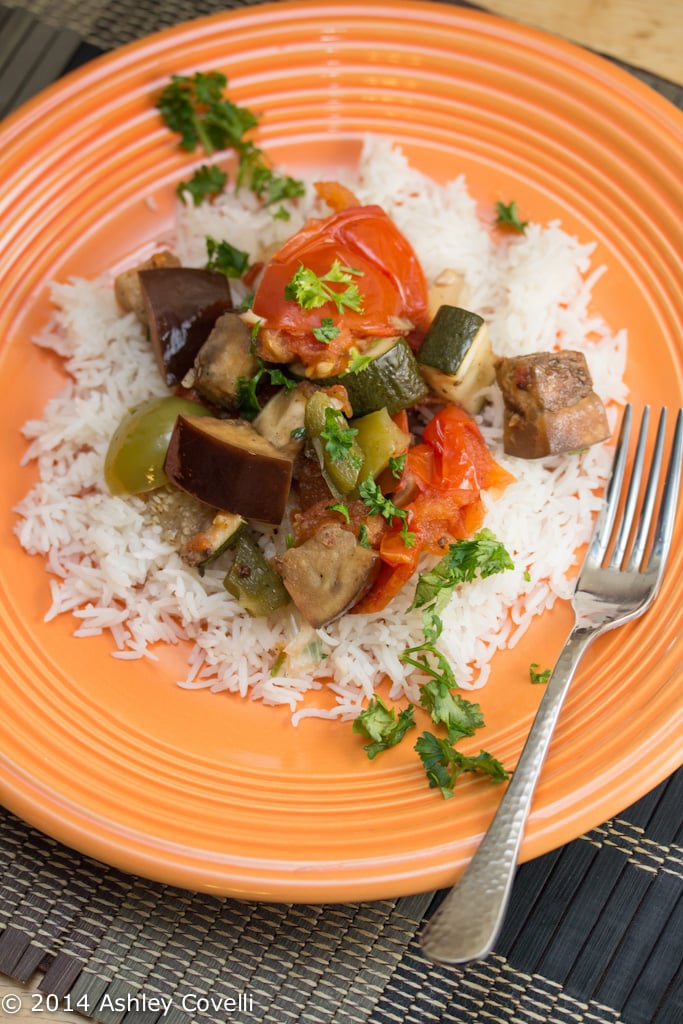 One thing I really enjoyed was the texture of the tomatoes after cooking down in the slow cooker. They tasted like they were roasted, which was really nice. I'll definitely use this method for tomatoes in the future!
Lebanese Eggplant Stew
The Gourmet Vegetarian Slow Cooker: Simple and Sophisticated Meals from Around the World - Lynn Alley
Serves 4 to 6
1 eggplant, peeled and cut into 1-inch cubes
1 zucchini, cut into 1-inch pieces
3 tomatoes, cut into quarters
1 green bell pepper, stemmed, seeded and cut into 1-inch pieces
½ onion, cut vertically into 8 pieces
3 cloves garlic, minced
½ teaspoon black peppercorns
½ teaspoon allspice berries
1-inch piece cinnamon
¼ teaspoon red pepper flakes (optional)
¼ cup olive oil
¼ cup chopped fresh parsley
Salt to taste
Combine the eggplant, zucchini, tomatoes, bel pepper, onion, and garlic in the slow cooker insert.
Using an electric coffee mill or a mortar and pestle, grind the peppercorns, allspice berries, cinnamon and red pepper flakes to a powder.
Add the spices to the vegetables, cover, and cook on low for 3 to 4 hours, or until the vegetables are tender.
Stir in the olive oil and parsley, and add salt to taste just before serving.
Big Flavors Rating: 3 Stars