This post may contain affiliate links, which won't change your price but will share some commission.
Woohoo! We have another all-star slow-cooker recipe on our hands! This was really labor intensive to put together, but it was oh so very worth it. I usually like slow-cooker recipes where you can just dump the ingredients into the slow cooker, turn it on, and go about your day. This one takes a lot of prep time...browning meat, sautéing veggies, thickening a spiced sauce...but it's all about the layers of flavor here. I couldn't find a piece of organic chuck or bottom round, so I used a piece of top round London broil. I also only used about half the amount of meat that it called for, because I didn't need to have that much meat for just my husband and I. I don't know how much of a difference that would have made in the whole recipe - I just had a lot of extra liquid, so I used a slotted spoon to serve the meat/veggies. The cheese and cilantro absolutely make these tacos complete, so don't skip out on that part. This almost knocked out our favorite Slow-Cooker French Dips for the number one slow-cooker recipe we've had, but not quite. I will most definitely be making these again. Yum!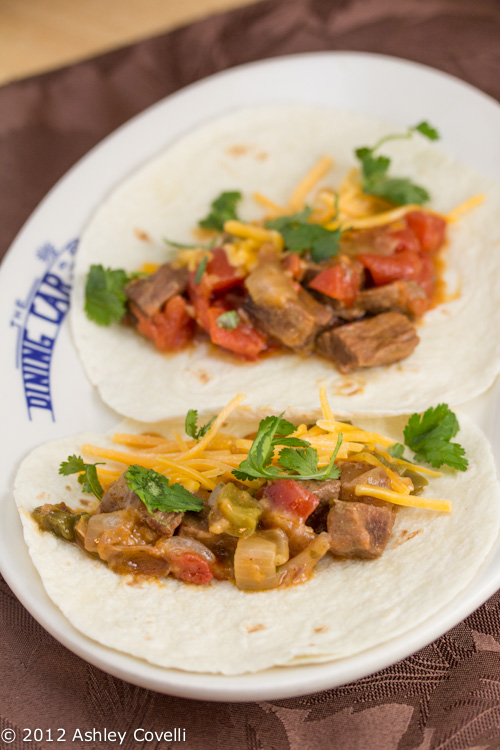 Slow-Cooker Carne Guisada
Everyday Food November 2010
Beef simmered with garlic and peppers in a thick tomato sauce makes for a warm and satisfying dinner. A slow cooker turns a less expensive cut of meat into a flavorful stew. Serve it in flour tortillas or spoon over rice.
2 ½ pounds beef chuck roast or bottom round, cut into 1-inch pieces
coarse salt and ground pepper
2 tablespoons vegetable oil
1 medium white onion, diced medium
1 medium green bell pepper, seeded and diced medium
1 large jalapeno, seeded and diced small
5 garlic cloves, roughly chopped
1 ½ teaspoons ground cumin
¾ teaspoon chili powder
¾ teaspoon dried oregano
6 tablespoons all-purpose flour
1 ¾ cups low-sodium chicken broth
1 can (14 ounces) diced tomatoes
2 bay leaves
Flour tortillas, warmed, grated cheddar, and cilantro, for serving
Season beef with salt and pepper. In a large skillet, heat 2 teaspoons oil over high. In two batches, cook beef until browned on all sides, 5 minutes per batch (add 2 teaspoons more oil for second batch). Transfer to a 5- to 6-quart slow cooker.
In same skillet, cook 2 teaspoons oil, onion, bell pepper, jalapeno, and garlic over medium, stirring and scraping up browned bits with a wooden spoon, until vegetables are tender, 5 minutes. Add cumin, chili powder, oregano, and flour and cook 1 minute. Slowly pour broth into skillet, stirring until liquid is smooth. Simmer 2 minutes, then transfer mixture to slow cooker, along with tomatoes and bay leaves. Season to taste with salt and pepper and stir to combine. Cover and cook on high 6 hours. Serve in tortillas with cheese and cilantro.
Cook's Note: Refrigerate cooled mixture in an airtight container, up to 3 days.
Big Flavors Rating: 5 Stars