This post may contain affiliate links, which won't change your price but will share some commission.
This meal was insanely easy to throw together, and it was tasty, too! I usually assemble things in the slow cooker the night before and keep them in the fridge until the morning, but I forgot last night. I was able to get this in the slow cooker and going in just a few minutes this morning, and it was so worth it! I served the sandwiches with blue cheese dressing, carrots and celery. These sandwiches are very spicy, so make sure to have something nearby to cool you off!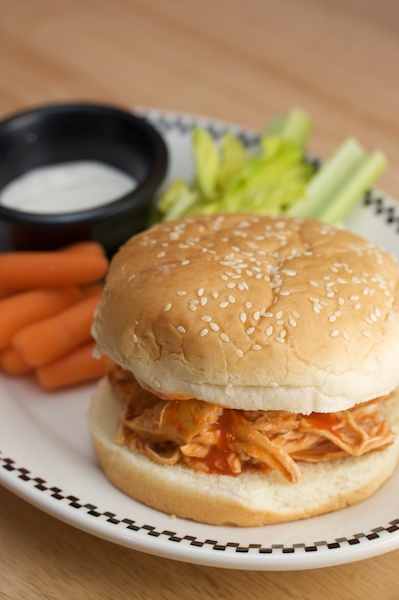 Slow Cooker Buffalo Chicken Sandwiches
Allrecipes - Divinesoalce21
"This is a spicy, hearty sandwich that will please those who love buffalo chicken wings. This recipe is perfect for those days spent watching football. I like to top these with blue cheese or ranch dressing."
Prep Time: 15 Min
Cook Time: 7 Hrs
Ready In: 7 Hrs 15 Min
Yield 6 sandwiches
4 skinless, boneless chicken breast halves
1 (17.5 fluid ounce) bottle buffalo wing sauce, divided
½ (1 ounce) package dry ranch salad dressing mix
2 tablespoons butter
6 hoagie rolls, split lengthwise
1. Place the chicken breasts into a slow cooker, and pour in ¾ of the wing sauce and the ranch dressing mix. Cover, and cook on Low for 6 to 7 hours.
2. Once the chicken has cooked, add the butter, and shred the meat finely with two forks. Pile the meat onto the hoagie rolls, and splash with the remaining buffalo wing sauce to serve.
Nutritional Information:
Amount Per Serving Calories: 578 | Total Fat: 14g | Cholesterol: 54mg
MacGourmet Rating: 4 Stars