Slow Cooker Brown Sugar and Balsamic Glazed Pork Loin
This post may contain affiliate links, which won't change your price but will share some commission.
A lot of people think that slow cookers are a wintertime luxury. As someone who doesn't really have air conditioning that reaches the kitchen, I think that slow cookers are perfect for summertime cooking! You can have a nice, hot meal without heating up your kitchen, usually with minimal effort. I came across this recipe on a blog with one of the funniest names I've ever heard and knew I wanted to give it a try. It took very little effort to get it going this morning, and before it finished, I had to make a glaze and baste it a few times. Probably not a recipe I would have chosen back when I was working full-time, but not a big deal now that I work part-time from home. Anyway, this was wonderful! I hadn't previously considered glazing something that was cooking in the slow cooker, but it worked beautifully. The extra glaze was very tasty, and it went well with the pork, which was nice and tender. I served this with an Avocado Mango Lime Chickpea Salad and a green salad, which made dinner a breeze!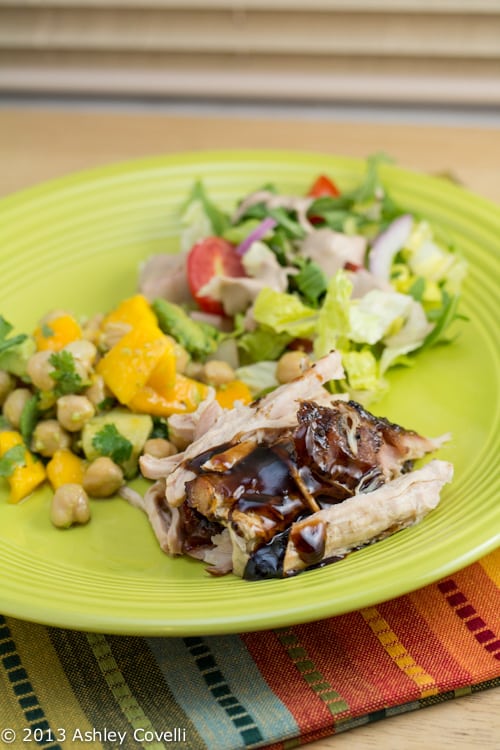 Brown Sugar and Balsamic Glazed Pork Loin
C+C Marriage Factory
Ingredients:
1 (2 pound) boneless pork tenderloin (or regular pork loin)
1 teaspoon ground sage
1/2 teaspoon salt
1/4 teaspoon pepper
1 clove garlic, crushed
1/2 cup water
Glaze
1/2 cup brown sugar
1 tablespoon cornstarch
1/4 cup balsamic vinegar
1/2 cup water
2 tablespoons soy sauce
Directions:
Combine sage, salt, pepper and garlic. Rub over roast. Place in slow cooker with 1/2 cup water. Cook on low for 6-8 hours. About 1 hour before roast is done, combine ingredients for glaze in small sauce pan. Heat and stir until mixture thickens. Brush roast with glaze 2 or 3 times during the last hour of cooking. Serve with remaining glaze on the side.
Servings: 6-8
Big Flavors Rating: 4 Stars