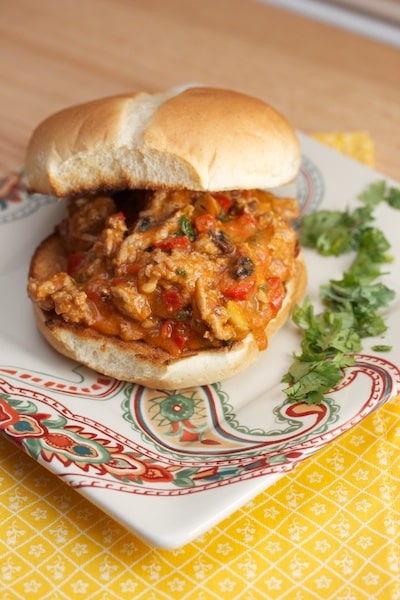 This post may contain affiliate links. Thank you for supporting the brands that keep me creative in my tiny kitchen!
Spoiler alert – if you haven't seen the finale of this season of The Next Food Network Star, don't keep reading! Consider yourself warned! I decided to make all 3 dishes from the winner's first show tonight. The main course was an Indian take on a classic American sandwich. This is a very unique dish, and the flavors really make it unique and wonderful. When I saw Aarti make this dish on her show, she said that adding cream to dishes in Indian cooking means that you're cooking it for someone that you care about. It really does add a lovely richness to the sauce. The sweetness from the raisins and the crunch from the pistachios are also welcome additions. This was a great, comforting Sunday dinner! We were rooting for Aarti to win all season, and I can't wait to try more of her wonderful recipes!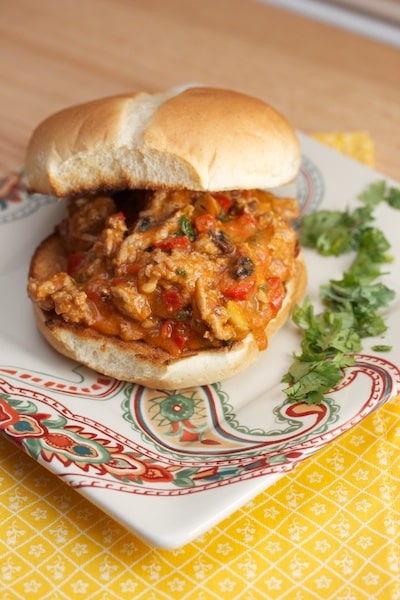 Sloppy Bombay Joes
Aarti Party – Aarti Sequeira
Cook Time: 1 hr 0 min
Yield: 4 to 6 servings
Prep: 35 min
Cook: 1 hr 0 min
Total: 1 hr 35 min
Sauce:
2 tablespoons vegetable oil
1 tablespoon minced ginger
2 cloves garlic, minced
1/2 serrano chile, seeded and finely minced (save the other half for the turkey)
1 teaspoon garam masala
1/2 teaspoon paprika
1 (15-ounce) can tomato sauce
1 cup water
Turkey:
3 to 4 tablespoons vegetable oil
Small handful shelled pistachios, about 1/4 cup
Small handful raisins, about 1/4 cup
1 teaspoon cumin seeds
1/2 large white onion, finely diced
1 red bell pepper, seeds and membrane removed, finely diced
1/2 serrano chile, seeds intact (don't chop it up unless you like things spicy!)
Kosher salt
1 pound ground turkey
1/2 teaspoon honey
1/4 cup half-and-half
Small handful chopped fresh cilantro (soft stems included)
4 to 6 hamburger buns
Begin by making the sauce: Warm the oil in a medium saucepan over medium heat, until it shimmers. Add the ginger, garlic and serrano pepper. Saute until the ginger and garlic brown a little. Add the garam masala and paprika and saute for 30 seconds. Stir in the tomato sauce and water. Bring to a boil, then reduce the heat and simmer, uncovered, until thickened, about 15 minutes.
Meanwhile for the turkey, in large skillet, warm 2 tablespoons of oil. When shimmering, add the pistachios and raisins. Cook until the raisins swell up and the pistachios toast slightly. Remove from the pan and set aside.
Return the pan to medium heat, add 1 to 2 more tablespoons of oil, and warm until shimmering. Add the cumin seeds and allow them to sizzle for about 10 seconds, or until some of the sizzling subsides. Stir in the onions and bell pepper; saute until softened and starting to brown. Add the serrano pepper. Saute for another couple of minutes, seasoning with a little salt. Stir in the turkey, breaking up the big lumps. Cook until opaque, about 5 minutes.
Meanwhile, your sauce should be ready. Pour the sauce into the skillet with the turkey. Stir and bring to a boil, then lower the heat and simmer until the mixture has thickened slightly, about 10 minutes.
Once the turkey is cooked and the sauce has thickened a little, remove the serrano pepper (unless you want to eat it whole, like my Dad does!). Add the honey, half-and-half, pistachios and raisins. Stir through and taste for seasoning. Before serving, garnish with fresh cilantro.
Toast the buns, fill with the turkey mixture and serve. Eat (with your hands!) and enjoy!
Big Flavors Rating: 4 Stars