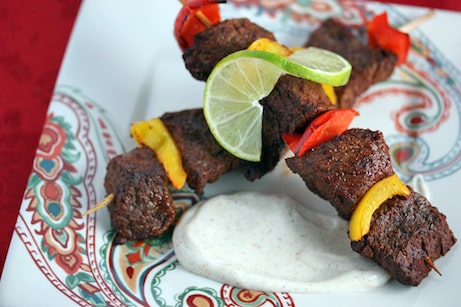 Skewered Sirloin with Lime Cumin Sour Cream
This post may contain affiliate links. Thank you for supporting the brands that keep me creative in my tiny kitchen!
This is one of our favorite weeknight meals. I've made it several times, and it's a great, flavorful, easy dinner. I usually make the pieces of meat a little bigger than the recipe calls for, and cook it for longer to get the outsides to be more charred while the middle stays moist.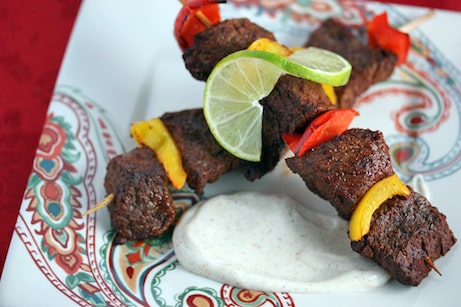 Skewered Sirloin with Lime Cumin Sour Cream
McCormick
Fajitas on a stick! A sophisticated way to have fajitas. Serve with grilled (or boiled) corn on the cob and an avocado and tomato salad for easy sides.
** sauce **
⅓ cup fat free sour cream
1 ½ tablespoons light mayonnaise
1 tablespoon lime juice
¼ teaspoon ground cumin
⅛ teaspoon ground red pepper (cayenne)
** skewers **
12 ounces sirloin steak, trimmed of fat and cut into 16 about 1 inch pieces
2 tablespoons lime juice
2 teaspoons chili powder
½ teaspoon ground cinnamon
½ teaspoon onion salt
¼ teaspoon ground cumin
1 red bell pepper, cut into 16 pieces
1 yellow bell pepper, cut into 16 pieces
cooking spray
1. Combine sauce ingredients in a small bowl. Stir to blend well and set aside.
2. Combine steak pieces in a medium bowl with 2 tablespoons lime juice, chili powder, cinnamon, onion salt and 1/4 teaspoon cumin. Toss gently, yet thoroughly, to coat evenly. Thread equal amounts onto 10-inch skewers alternating beef and peppers.
3. Preheat broiler. Coat a broiler pan with cooking spray, place skewers on pan and broil 4 inches from heat for 3 minutes. Turn and broil 2 minutes longer or until barely pink in center. Serve with sauce.
Nutritional notes:
Calories: 190, Fat: 6 g, Cholesterol: 48 mg, Sodium: 267 mg, Carbohydrates: 12 g, Fiber: 2 g, Protein: 22 g
MacGourmet Rating: 5 Stars