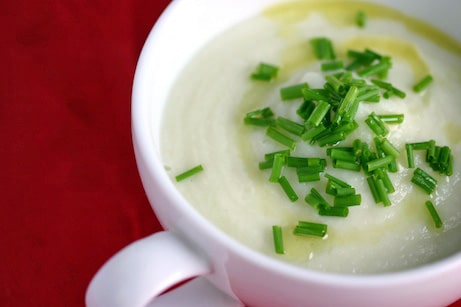 This post may contain affiliate links. Thank you for supporting the brands that keep me creative in my tiny kitchen!
This soup was really easy to put together, and with the addition of a little ground white pepper, it was great! Definitely go for the truffle oil or salt if you want this to be special. I used truffle salt and some good quality topping oil. It couldn't be simpler, and it's really tasty!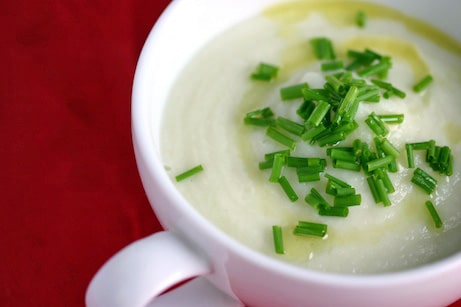 Simple Cauliflower Soup
Simply Recipes
To take this soup from simple to sublime, add a dash or two of truffle salt or truffle oil to the soup when serving.
Florets from one head of cauliflower (tough core of cauliflower discarded)
1 quart of water
Salt
Butter
Chives
Olive oil
1 Bring 1 quart of water to a rolling boil in a medium-sized pot. Add 1 tablespoon of salt to the water. Add the cauliflower florets, and cook until cooked through, about 4 minutes. Use a slotted spoon to remove florets to a bowl. Reserve cooking water.
2 Working in batches, fill a blender half-way with cooked cauliflower, add enough cooking water to the blender bowl so that it comes up a quarter of the way. Purée until smooth. You want the consistency to be that of soup, so if you need to add more water, do so. For each blender batch, add salt and butter to taste (about 1/2 teaspoon of salt, and about a tablespoon or more of butter for each blender batch). Since you are using only lightly salted cooking water for a base, not stock, you will need to salt this more than you would otherwise.
3 Serve immediately into bowls. Drizzle olive oil over the top and sprinkle with chopped chives.
Serves 4.
MacGourmet Rating: 4 Stars