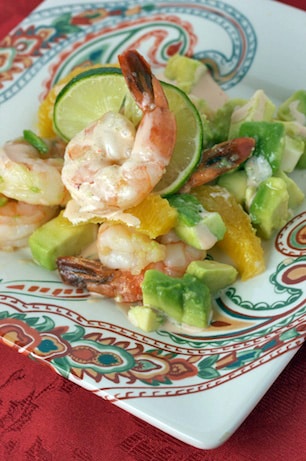 This post may contain affiliate links. Thank you for supporting the brands that keep me creative in my tiny kitchen!
I'm still finding more ways to try shrimp, and I came across a different take on shrimp cocktail. It was a really unique dish. I don't find too many recipes that call for hearts of palm, and it's an ingredient that I don't use nearly enough. This salad is cool and refreshing- a perfect end of summer recipe.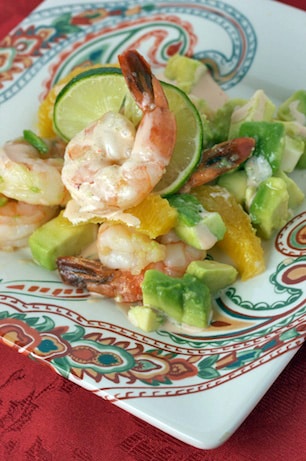 Shrimp Cocktail Exotique
Gourmet August 1996
yield: Serves 4
Can be prepared in 45 minutes or less.
2 navel oranges
1 ½ lbs. medium shrimp (32 total), shelled and deveined
2 teaspoons extra-virgin olive oil
¼ teaspoon minced and mashed garlic
For sauce
½ cup mayonnaise
3 tablespoons ketchup
1 ½ tablespoons Cognac
2 teaspoons fresh lime juice, or to taste
½ teaspoon sugar
a pinch of cayenne
3 firm-ripe California avocados
6 canned hearts of palm, drained, rinsed, patted dry, and cut crosswise into 1/2-inch pieces
Make shrimp
With a sharp knife cut a slice from top and bottom of each orange, exposing flesh, and arrange with a cut side down on a cutting board. Cutting from top to bottom, remove peel and pith. Working over a bowl, cut orange sections free from membranes, letting sections drop into bowl, and squeeze in excess juice from membranes.
Into a large saucepan of boiling salted water plunge shrimp and poach at a bare simmer just until firm, 1 to 2 minutes. Drain shrimp in a colander and transfer to a large bowl. While shrimp are still warm add oil, garlic, and 1 tablespoon juice from orange sections, stirring to coat shrimp. Let shrimp cool to room temperature.
Make sauce:
In a small bowl whisk together sauce ingredients until smooth. Sauce may be made 1 day ahead and chilled, covered.
Quarter avocados lengthwise, removing pit and peel, and cut into 1/2-inch dice. Transfer orange sections with a slotted spoon to shrimp mixture and add hearts of palm and avocado, folding ingredients together gently.
Divide salad among 4 plates, mounding it, and spoon sauce over salad.
MacGourmet Rating: 4 Stars