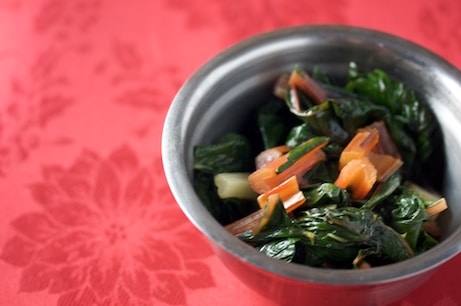 Seared Rainbow Chard with Leeks
This post may contain affiliate links. Thank you for supporting the brands that keep me creative in my tiny kitchen!
One of my friends gave me some rainbow chard from his garden, and I was excited to try it out. I'm not a huge fan of bitter greens, but it's one of the things I'm working on. I found a really simple recipe that looked like a winner. It was OK. Like I said, I'm not a fan of bitter greens. I think I need a lot of garlic or other flavors to try to convert me to a lover of all things bitter. Dino liked this, but said it wasn't anything special.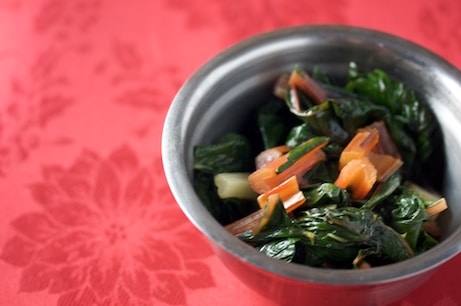 Seared Rainbow Chard with Leeks
Gourmet August 2000
yield: Makes 8 servings
active time: 25 minutes
total time: 25 minutes
2 (1-lb) bunches rainbow chard or red and green Swiss chard
3 tablespoons unsalted butter
2 tablespoons extra-virgin olive oil
2 large leeks (white and pale green parts only), halved lengthwise and cut crosswise into 1/4-inch-thick slices
3/4 teaspoon fine sea salt
Cut stems from chard (if leaves are large, cut out coarse portions of rib), then cut stems crosswise into 1/4-inch-thick slices. Stack chard leaves and roll into cylinders. Cut cylinders crosswise to make 1-inch-thick strips of leaves.
Heat butter and oil in a 12-inch heavy skillet over moderately high heat until foam subsides, then sauté chard stems and leeks with sea salt and pepper to taste, stirring occasionally, until slightly soft, 3 to 5 minutes.
Add chard leaves and continue to sauté, stirring frequently, until wilted. (If greens begin to brown before they wilt, sprinkle with a few drops of water.)
MacGourmet Rating: 3 Stars