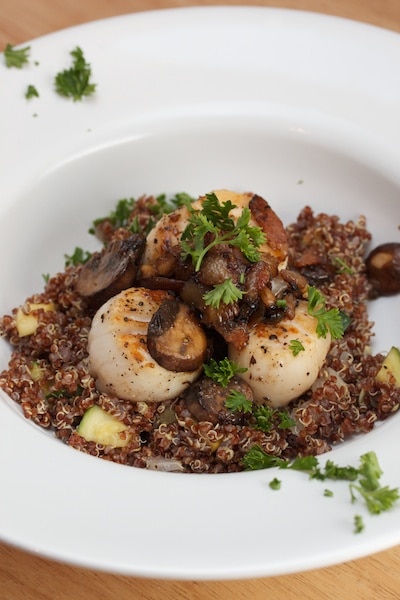 Sea Scallops with Pork Jowl Mushrooms and Red Quinoa with Zucchini
This post may contain affiliate links. Thank you for supporting the brands that keep me creative in my tiny kitchen!
I felt inspired to make something with scallops and quinoa, so I took a trip to Whole Foods and picked them up, along with some zucchini and a package of mixed mushrooms. When I got home from work, Dino showed me a gift that a coworker (and amazing artist) gave us: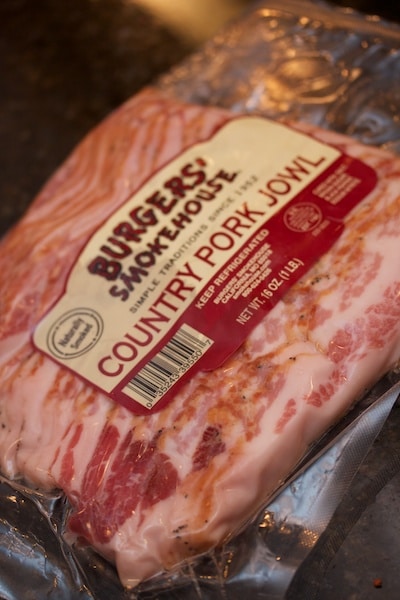 Wow. Pork jowl that was smoked to perfection and cut like bacon. It's a new ingredient to us – it's meat from the jaw/neck area, and we've heard raving reviews about it. How could we not use this stuff right away?! So I asked him if he wanted to collaborate on a dish with me. This is what we came up with.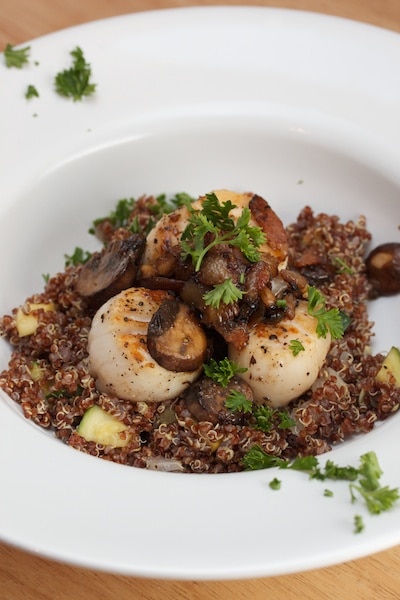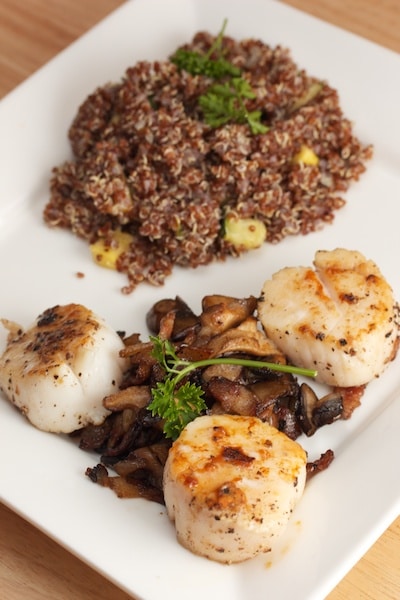 It was my first time cooking quinoa, and it was incredibly easy. 1 part quinoa to 2 parts water, bring to a boil, then cover it and lower the heat until all of the water is absorbed. While that was cooking, I sautéed diced green and yellow zucchini, a few sprigs of thyme and a chopped shallot in some olive oil with salt and pepper. Once they were tender, I put them on a plate until the quinoa was ready, and then I mixed them together.
Dino cut 3 strips of pork jowl into lardons and I sautéed them with another chopped shallot in the same pan I used for the zucchini. Once the pork was getting a lot of color, I added a package of mixed mushrooms (baby bella, shiitake and oyster) and let them cook down. We added a shot of bourbon and let it cook out, and then pushed them off to the side of the pan. I patted the scallops dry and seasoned them lightly with salt and pepper and set them down in the leftover oil and pork fat (it wasn't a lot of fat, maybe a teaspoon total). I seared them and let them cook a few minutes before flipping them to cook the other side. They were really big scallops, but I wanted to make sure that I didn't overcook them. Once they were done, I removed them from the pan and added another shot of bourbon to the mushroom mixture, to deglaze the pan. I finished it off with about a tablespoon of butter, and dinner was ready!
This turned out really tasty. I envisioned it as one dish, but Dino prefers his scallops separate. So we both made our own plates and I took photos of both. Maybe a vote is in order – which way would you prefer to eat this dish?
Big Flavors Rating: 4 Stars