This post may contain affiliate links, which won't change your price but will share some commission.
To go with my Tequila-Lime Shrimp Tacos, I made up a quick corn sauté. I figured I might as well throw some tequila in there, too. You know, to make it a cohesive meal ;). This was really easy to put together and had really nice flavor. It was great with the tacos, and I was able to use up some produce that I had hanging out for aaaaalmost too long, which is always a bonus. It's tricky to cut back on waste in the kitchen, but I'm really trying to get better at it. That reminds me, I have some beets in there that I really need to roast...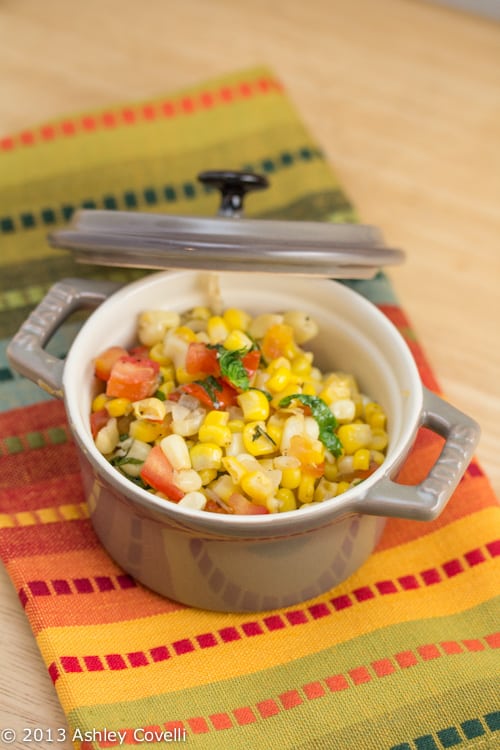 Sautéed Corn with Cilantro, Mint and Tequila
Ashley Covelli
1 tablespoon extra-virgin olive oil
½ yellow onion, minced
1 clove garlic, minced
½ teaspoon dried oregano
1 pound bag frozen baby gold & white corn, thawed
1 plum tomato, diced
Kosher salt and freshly cracked black pepper
1 tablespoon rice vinegar
1 tablespoon tequila
1 tablespoon cilantro, chopped
1 tablespoon mint, chopped
Heat oil in a skillet over medium heat. Add onion, garlic and oregano and sauté for a few minutes, until soft. Add corn, tomato, salt and pepper, vinegar and tequila. Sauté for a few minutes until everything is warmed and the liquid reduces. Remove from heat and stir in cilantro and mint.
Enjoy!
Big Flavors Rating: 4 Stars