This post may contain affiliate links, which won't change your price but will share some commission.
My husband requested Chilean Sea Bass for dinner, and I hadn't ever cooked with it before, so I looked for a simple recipe. This one certainly fit the bill! It's kind of like a piccata sauce. The fish was buttery and delicious, and the tanginess of the capers went really well with it. Next time I make this type of fish, I think I'll do a sweet sauce to see which preparation I like better. I served this with Thai Butternut Soup, and it was a really nice meal.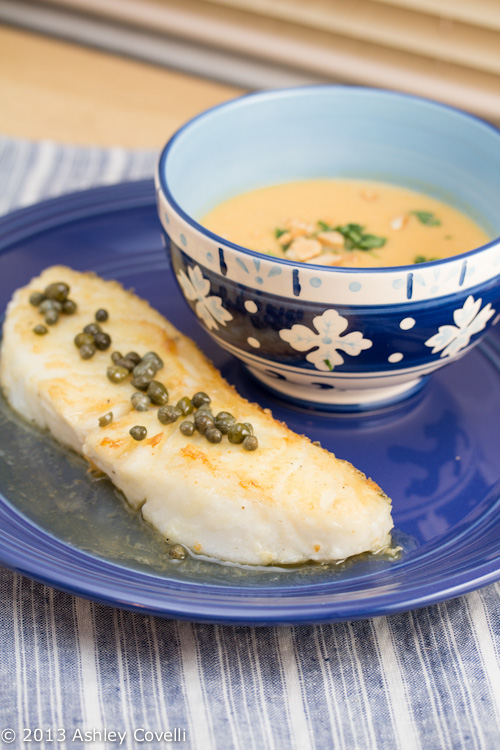 Sauteed Chilean Sea Bass
Chef Ehab Habishi
Total Time: 17 min
Prep: 5 min
Cook: 12 min
Yield: 4 servings
1 cup all-purpose flour for dredging*, seasoned with salt and pepper
1 ½ to 2 pounds Chilean Sea Bass fillets
4 tablespoons butter/olive oil combination
1 cup dry white wine
1 tablespoon butter, softened
2 tablespoons drained capers
Preheat oven to 200 degrees F.
Place flour for dredging in a shallow bowl. Coat each fillet with seasoned flour and shake off excess. Heat a large nonstick skillet over medium heat for 3 to 4 minutes. Add butter/olive oil combination. Add the fillets, without crowding. Increase heat to high and saute, shaking the pan from time to time, until the bottom of the fish is nicely browned, about 3 minutes. Turn and brown the other side. Remove fish to a plate and keep warm in the oven. Repeat with remaining fillets.
Deglaze the pan with white wine. Cook, stirring over high heat until reduced by about one-third. Stir in remaining butter and drained capers.
Plate fish and drizzle sauce around each fillet.
*Optional: use Gluten Free
Big Flavors Rating: 4 Stars