This post may contain affiliate links, which won't change your price but will share some commission.
Oh, the things we do for love. My husband is sick, and he hasn't been eating or drinking much. So when he finally put in a request, it was something that I haven't made before, and definitely something I do not want to ever eat. I've tried most things - even some things I never thought I'd try (I'm talking to you, jellyfish!), but some things just don't sound like anything I'd ever want to try. A sardine sandwich is one of those things. Dino makes them for himself all the time. His grandfather used to make them. I get it. It's comfort food to him. So when he requested a sardine sandwich, I asked what he wanted on it. He gave me a list of toppings and I went in the kitchen and prayed that none of the potent sardine juice splashed on me.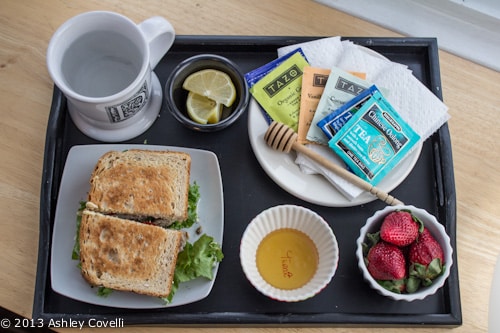 This sardine sandwich is on toasted multigrain bread, slathered with mayo and a little dijon, with some mixed lettuce greens and sliced tomatoes on top of that. I topped it with sardines that were packed in a tin with oil. A light sprinkle of kosher salt and a few cracks of black pepper and it was complete. And for the record, he said it was the best sardine sandwich he had ever had.