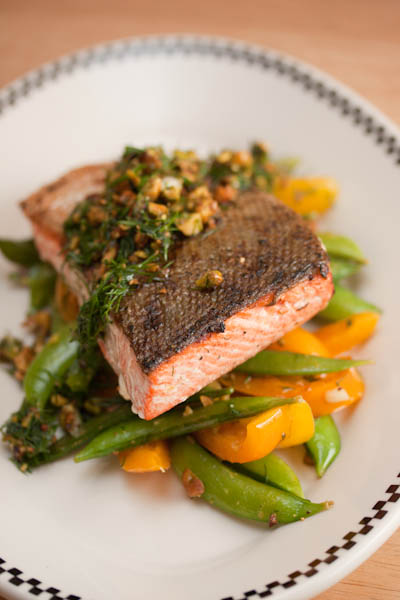 Salmon with Snap Peas, Yellow Peppers, and Dill-Pistachio Pistou
This post may contain affiliate links. Thank you for supporting the brands that keep me creative in my tiny kitchen!
I wanted to make a refreshing salmon dish, and this recipe really hit the spot. It's pretty easy to put together, and the pistou on top reminded us of one of our favorite dishes – Dill Chicken Paillards with Tomato-Dill Relish. The cool topping is great on the salmon, and the freshness of the dill really livens it up. The sweet bell peppers and sugar snap peas add a nice crunch, and it makes a really simple yet elegant dinner. I'll definitely be making this again.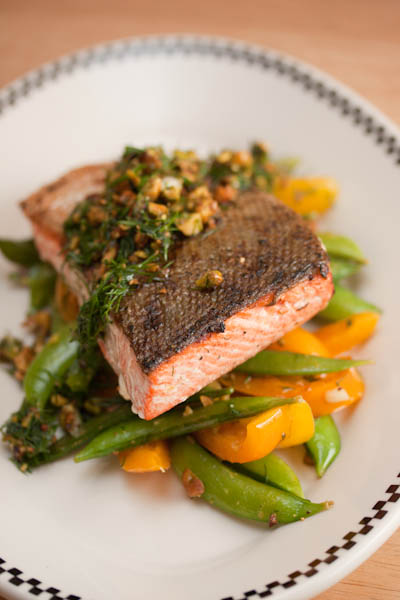 Salmon with Snap Peas, Yellow Peppers, and Dill-Pistachio Pistou
Bon Appétit August 2009
yield: Makes 4 servings
A chunky pistou with full pistachio flavor adds depth to this fresh salmon dish. Want even more vegetables? Slice lemon cucumbers (a wonderful farmers' market variety that looks somewhat like a yellow tomato) and add a squeeze of lemon juice and a pinch of dill to make the perfect starter.
1/3 cup chopped fresh dill
1/3 cup finely chopped green onions (about 2)
1/2 cup shelled natural pistachios or almonds, toasted, finely chopped
1/4 cup plus 1 1/2 tablespoons pistachio oil or extra-virgin olive oil
2 yellow bell peppers or orange bell peppers, cut into 1/2-inch strips
1 pound sugar snap peas, trimmed, strings removed
1 garlic clove, minced
1/4 cup water
4 6-ounce salmon fillets
Mix dill, green onions, pistachios, and 1/4 cup oil in medium bowl. Season to taste with salt and pepper. DO AHEAD: Pistou can be made 2 hours ahead. Let stand at room temperature.
Heat 1/2 tablespoon oil in heavy large skillet over medium-high heat. Add peppers and sauté until beginning to soften, about 2 minutes. Add snap peas, garlic, and 1/4 cup water; sprinkle with salt. Sauté until vegetables are just tender and water evaporates, 2 to 3 minutes. Stir in 1 rounded tablespoon pistou. Transfer vegetables to platter; tent with foil to keep warm. Reserve skillet (do not clean).
Heat remaining 1 tablespoon oil in reserved skillet over medium-high heat. Sprinkle salmon with salt and pepper. Place salmon, skin side down, in skillet; cook until skin is crisp, about 3 minutes. Turn salmon and cook until almost opaque in center, about 3 minutes longer. Arrange salmon fillets over vegetables on platter. Spoon some pistou down center of each fillet and serve, passing remaining pistou alongside.
Big Flavors Rating: 5 Stars