This post may contain affiliate links, which won't change your price but will share some commission.
We just got home from a wonderful week in Ocean City, MD. It was my first time there, and let me tell you... the seafood was out of this world! As much as I loved being at the beach and eating at new restaurants every day, I was definitely anxious to get back in my kitchen for some home-cooked food.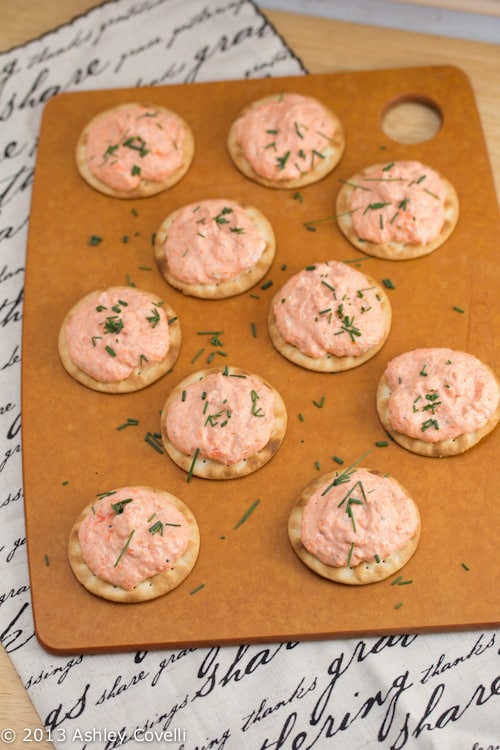 My mother-in-law's birthday is July 19th, and my father-in-law's is July 21st, so I figured today would be a good day to have them over for dinner. But since we just got back into town last night, I knew that I had a lot to do around the house, and I had to re-stock the refrigerator, so I wanted to make things that wouldn't take a lot of time. And let's not forget that it is miserably hot outside, and our window unit air conditioners don't reach the kitchen, so I wanted to keep any time in the oven/stove to an absolute minimum. I decided to hit up my Pinterest boards to explore some options. When I saw this appetizer, I knew it would be a winner. Nice and simple - just mix a few things together and let them chill in the fridge until party time. This came together in a snap, and was really tasty! The flavor of the smoked salmon really shines here, and it's nice and creamy from the cream cheese (I subbed some low-fat Neufchatel cheese, which worked beautifully). This would be great with some capers in it, too. It definitely looked like I spent a lot more time on it than I did, and I'd totally make it for another party sometime.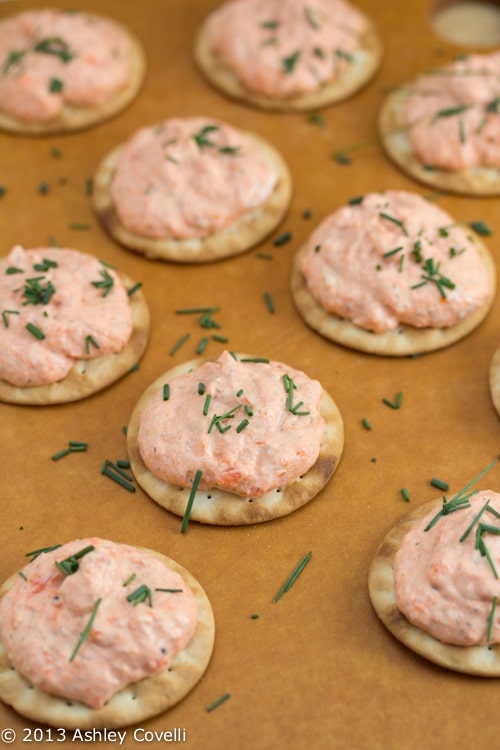 Salmon Mousse
Annie's Eats
Yield: about 2 cups
8 oz. smoked salmon, flaked with a fork
8 oz. cream cheese
1 tsp. dried dill weed
Freshly ground black pepper, to taste
1 clove garlic, finely minced
Combine all ingredients in the bowl of a food processor. Pulse repeatedly until all the ingredients are blended and smooth. Transfer to a serving dish, cover with plastic wrap and chill at least one hour. (Alternatively, pipe the mixture onto crackers and garnish with fresh herbs.)
Big Flavors Rating: 4 Stars