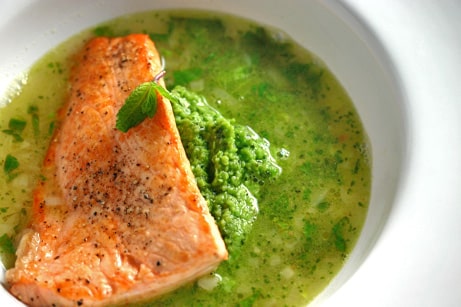 Salmon in Lemon Brodetto with Pea Puree
This post may contain affiliate links. Thank you for supporting the brands that keep me creative in my tiny kitchen!
This recipe is really good, but we thought that the lemon brodetto was wrong for the dish, texturally. You make this gorgeous pea puree and then basically ruin the texture of it with the brodetto. I think that the flavor from the shallots and lemon are nice, but I think they should be added to the puree instead. Or there should be significantly less of the liquid. Anyway, the flavors really were nice, and it would be tasty if tweaked a bit to make the most out of the textures of this dish.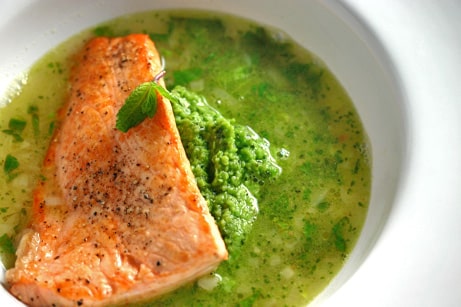 Salmon in Lemon Brodetto with Pea Puree
Giada De Laurentiis
Lemon Brodetto:
2 tablespoons olive oil
1 shallot, diced
2 lemons, juiced
1 lemon, zested
2 cups chicken broth
1 tablespoon chopped fresh mint leaves
Pea Puree:
2 cups frozen peas, thawed (about 10 ounces)
¼ cup fresh mint leaves
1 clove garlic
½ teaspoon kosher salt
½ teaspoon freshly ground black pepper
½ cup extra-virgin olive oil
½ cup grated Parmesan
Salmon:
¼ cup olive oil
4 (4 to 6-ounce) pieces salmon
Kosher salt
Freshly ground black pepper
To make the Lemon Brodetto, warm the olive oil in a medium saucepan over medium heat. Add the shallots and saute until tender, about 7 minutes. Add the lemon juice, zest, and broth. Bring to a simmer, and keep warm, covered, over low heat.
To make the Pea Puree, combine the peas, mint, garlic, salt, and pepper in a food processor and puree. With the machine running, add the olive oil in a steady drizzle. Transfer the pea puree to a small bowl and stir in the Parmesan. Set aside.
To make the Salmon, warm the olive oil in a large, heavy skillet over high heat. Season the salmon pieces with salt and pepper. Sear the salmon until a golden crust forms, about 4 to 5 minutes on the first side. Flip the fish and continue cooking until medium-rare, about 2 minutes more depending on the thickness of the fish.
To assemble the dish, add the tablespoon chopped mint to the Lemon Brodetto and divide between 4 shallow dishes. Place a large spoonful of Pea Puree into the center of each bowl. Place a salmon piece atop each mound of Pea Puree. Serve immediately.
MacGourmet Rating: 4 Stars