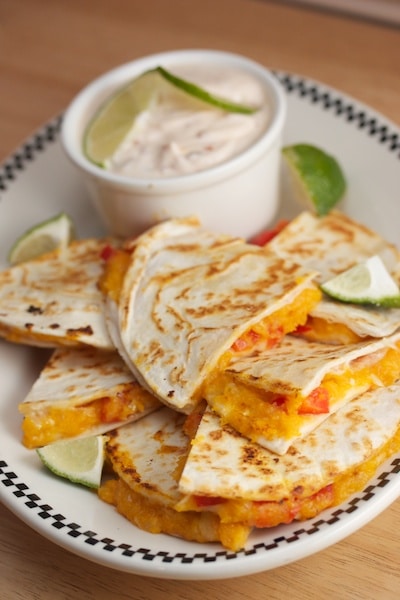 Roasted Squash, Red Pepper, and Jack Cheese Quesadillas with Chipotle Lime Sour Cream Dip
This post may contain affiliate links. Thank you for supporting the brands that keep me creative in my tiny kitchen!
I still had some chipotles in adobo left from when I made Latin Baked Chicken, so I found a few recipes to try to use up what's left. I tend to forget about the leftover chipotles, so this time I vowed to either freeze the rest right away or find more recipes to use up the rest. This was a fantastic appetizer! I bought butternut squash that was already peeled, since that's one of my least favorite things to do in the kitchen, and it made prepping this recipe a snap. I've never had a more interesting quesadilla. The dip was a wonderful accompaniment – it was slightly spicy from the chipotle, and nice and tangy from the lime juice. The chopped bell pepper added a nice crunch. We squeezed a little fresh lime juice on top after they were on our plates to liven them up even more. I'll definitely be making these again – probably soon!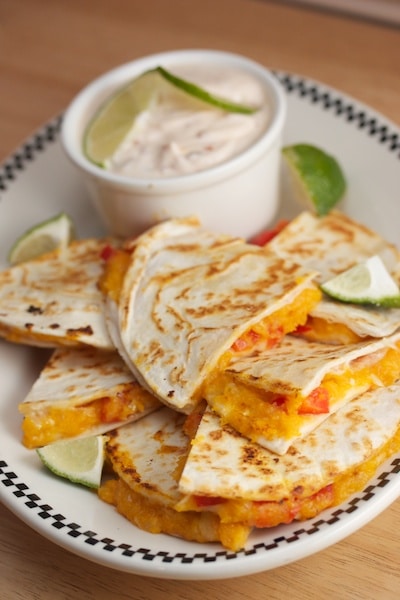 Roasted Squash, Red Pepper, and Jack Cheese Quesadillas with Chipotle Lime Sour Cream Dip
Gourmet October 1995
a 3/4-pound seedless piece butternut squash, peeled and cut into 3/4-inch dice (about 5 cups)
1 medium onion, unpeeled, cut into eighths
1 large garlic clove, unpeeled
1 tablespoon vegetable oil
eight 5- to 6-inch flour tortillas
1 cup chopped red bell pepper (about 1 large)
1 cup coarsely grated jack cheese
1/2 stick (1/4 cup) unsalted butter, softened
Accompaniment: chipotle lime sour cream dip
For the dip:
1 canned chipotle chili in adobo*, minced
2 teaspoons fresh lime juice
1 cup sour cream
*available at Hispanic markets and some specialty foods shops
To make the quesadillas: Preheat oven to 400°F.
In a shallow baking pan arrange squash, onion, and garlic in one layer and drizzle with oil, tossing to coat. Roast mixture in middle of oven 15 minutes, or until garlic is tender and transfer garlic to a work surface. Roast squash and onion until tender, about 15 minutes more. Discard peels from squash, onion, and garlic.
In a food processor purée squash, onion and garlic with salt and pepper to taste until smooth. Squash purée may be made 2 days ahead and chilled, covered.
Spread about one fourth squash purée on each of 4 tortillas and sprinkle each with about one fourth bell pepper and about one fourth cheese. Top each quesadilla with a plain tortilla, pressing gently together. Spread each side of quesadillas with 1/2 tablespoon butter.
Heat a griddle or 7-inch non-stick skillet over moderately high heat until hot and cook quesadillas, 1 at a time, until golden, about 3 minutes on each side, transferring to a cutting board.
Cut each quesadilla into 6 to 8 wedges and serve warm with chipotle dip.
To make the dip: In a small bowl stir chili and lime juice into sour cram until combined well. Dip may be made 2 days ahead and chilled, covered. Makes about 1 cup.
Big Flavors Rating: 5 Stars