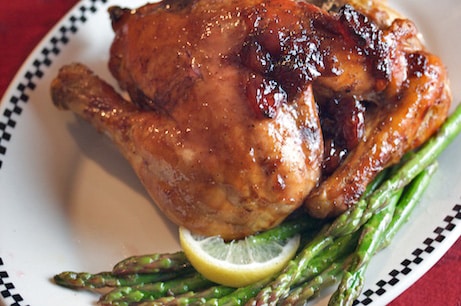 Roasted Cornish Hens with Cherry-Port Glaze
This post may contain affiliate links. Thank you for supporting the brands that keep me creative in my tiny kitchen!
We're in the process of remodeling our kitchen, which we're both extremely excited about. Right now, we're at the stage where our kitchen is still completely in tact, but we have boxes of cabinets and appliances all over our living/dining rooms. So when our new stove arrived, we were excited and just had to hook it up before the rest of the remodeling started. I'd like to introduce you to my new best friend…our brand new Maytag Gemini stove who I've decided to name (Woah) Black Betty: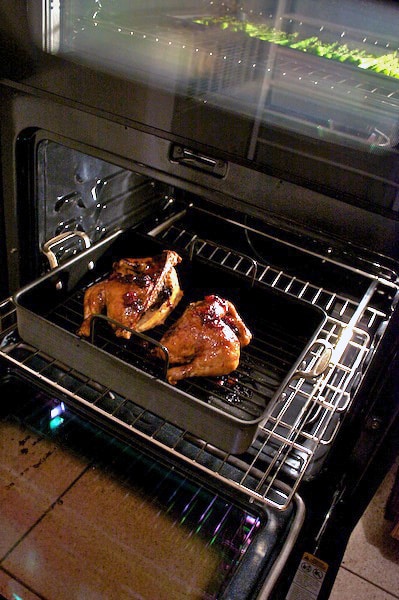 That's right – I'm now able to use two separate ovens at two separate temperatures! There are a ton of cool features on this baby, but I haven't played with it too much yet. I just had to share. And I'll definitely be posting before and after photos once we actually get the remodeling under way.
Anyway, for the first meal with the new stove, I decided to make a recipe from the newest issue of Cooking Light. It was another one from the 5 Ingredient section and it turned out awesome, too! My store didn't have Cornish hens, so I used a small chicken and cut it in half so that it wouldn't take forever to cook. The glaze has a ton of great flavor from the few ingredients, and the meat stays super moist and succulent. This was a pretty easy and impressive dinner to put together. I served it with some asparagus that I roasted with lemon juice, olive oil, salt and pepper.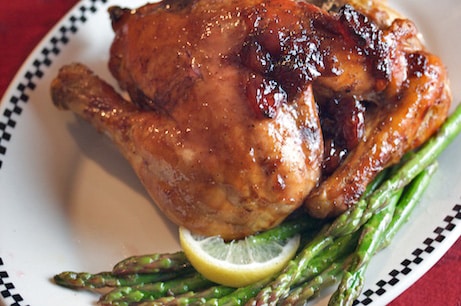 Roasted Cornish Hens with Cherry-Port Glaze
Cooking Light December 2009
Ginger gives the sweet-tart glaze a little bite.
Yield: 4 servings (serving size: 1/2 hen)
The 5 ingredients:
1/2 cup cherry preserves
1/2 cup port
1 tablespoon grated fresh ginger
1 tablespoon balsamic vinegar
2 (1 1/2-pound) Cornish hens
Preheat oven to 400°. Place a wire rack on a baking sheet; coat rack with cooking spray. Combine preserves, port, ginger, vinegar, and 1/4 teaspoon salt in a small saucepan. Bring to a boil; cook 9 minutes or until slightly thickened, stirring occasionally. Remove and discard giblets and necks from hens. Rinse hens with cold water; pat dry. Remove skin; trim excess fat. Working with 1 hen at a time, tie ends of legs together with twine. Lift wing tips up and over back; tuck under hen. Sprinkle evenly with 1/4 teaspoon salt and 1/4 teaspoon freshly ground black pepper. Set on wire rack on baking sheet. Bake at 400° for 15 minutes. Brush hens with cherry mixture; bake 40 minutes or until a thermometer inserted in the meaty part of thigh registers 165°, brushing with cherry mixture every 10 minutes. Remove from oven. Let stand 5 minutes. Remove twine; split hens in half lengthwise.
Nutritional Information
Calories:277 Fat:4.9g (sat 1.3g,mono 1.8g,poly 1.2g)
Protein:29.4g
Carbohydrate:27.5g
Fiber:0.1g
Cholesterol:133mg
Iron:1.3mg
Sodium:394mg
Calcium:22mg
MacGourmet Rating: 4 Stars
I think he liked it 😉