This post may contain affiliate links, which won't change your price but will share some commission.
Ever since I got more adventurous with food, I've been trying to get myself to like foods that I didn't care for- and some that I've down right hated. I feel like if I give certain foods plenty of opportunities, maybe I'll end up being able to enjoy them. So far, this has worked for a lot of things- blue cheese, steak that's not cooked to death, spicy food, a lot of sushi, salmon (including smoked), tuna, an occasional clam, and even one of my favorite items for the last few years- goat cheese. I'm sure there are more, but I also have a lot that I'm still working on.
I usually pick a "thing" or two to work on at a time. So right now one of my "things" is beets. I never really cared for them- they tasted, well... like dirt. But I've tried them in salads a few times at fancy restaurants and have realized that they can actually be tasty! So I bought some beets from the farmers' market and came up with a nice side dish. It turned out really good! Beets work incredibly well with goat cheese, and a few simple ingredients here really make a sophisticated addition to any meal.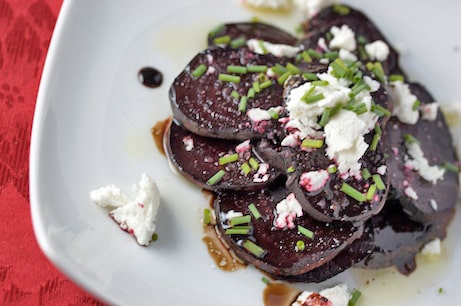 Roasted Beets with Goat Cheese and Aged Balsamic
Ashley Covelli
Preheat oven to 400°F. Line a baking sheet with foil. Trim greens off of beets and wrap each in a small piece of foil. Roast for 1 hour. Slice beets and arrange on plate. Top with fleur de sal, freshly cracked black pepper, crumbled goat cheese, a good extra virgin olive oil and some aged balsamic. Sprinkle with chives and enjoy!
MacGourmet Rating: 4 Stars