This post may contain affiliate links, which won't change your price but will share some commission.
I picked up some beautiful pieces of chicken from the Farmers' Market on Saturday, and wanted to roast them to serve alongside the Butternut Squash Gnocchi with Whiskey Cream Sauce. I roasted them simply and made a bit of a glaze to go on top of them, which was nice, but because I had to break my cooking time in half to run out of the house, the timing ended up being a bit off, and my glaze over-reduced. This definitely has potential, but I'd have to pay more attention to it and tweak it a bit. At least I have a convection oven, which is nice because even if I overcook meat, it usually stays pretty moist. Phew!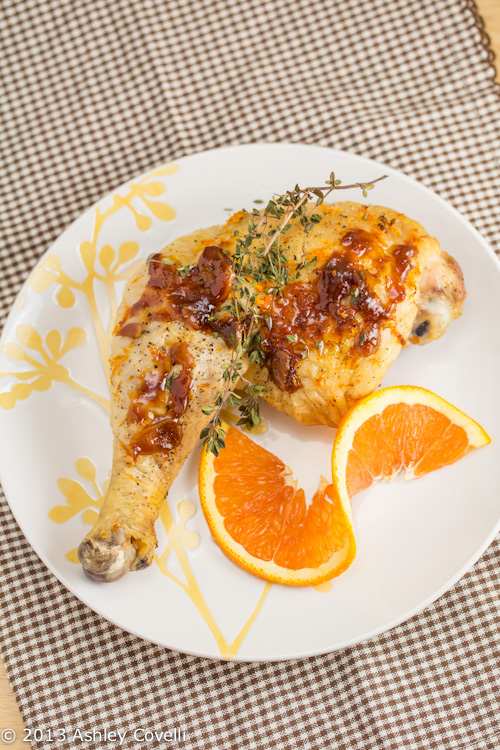 Roast Chicken Pieces with Orange and Thyme
Ashley Covelli
Serves 2
2 bone-in, skin-on chicken legs (drumsticks with thighs)
1 orange, zested and juiced
fresh thyme
kosher salt and freshly ground black pepper, to taste
1 tablespoon low-sodium soy sauce*
1 clove garlic, thinly sliced
Preheat oven to 450°F. Rinse chicken pieces and pat dry with a paper towel. Place on a rack inside of a roasting pan. Sprinkle orange zest, salt and pepper over top. Place a few sprigs of thyme on each piece. Roast until the internal temperature reaches 160°F (around 30-45 minutes, depending on your oven). Remove from the oven and let rest for 10 minutes.
Bring orange juice, soy sauce and garlic to a boil in a small saucepan. Reduce the heat and let it simmer until it reaches your desired consistency. Brush over the chicken pieces and serve.
*Optional: use Gluten Free
Big Flavors Rating: 3 Stars