This post may contain affiliate links, which won't change your price but will share some commission.
Hot sausage was on sale when I stopped by the grocery store a few days ago, so I picked up a pack. I had a bunch of veggies in the fridge, and some pattypan squash from the Farmers Market, and I figured a nice pasta sauce was in order. This made a HUGE batch since it was loaded with so many veggies, and we really liked the flavor. It didn't even need any salt or pepper because of all the seasoning in the sausage. It was a great way to use up such a variety of produce!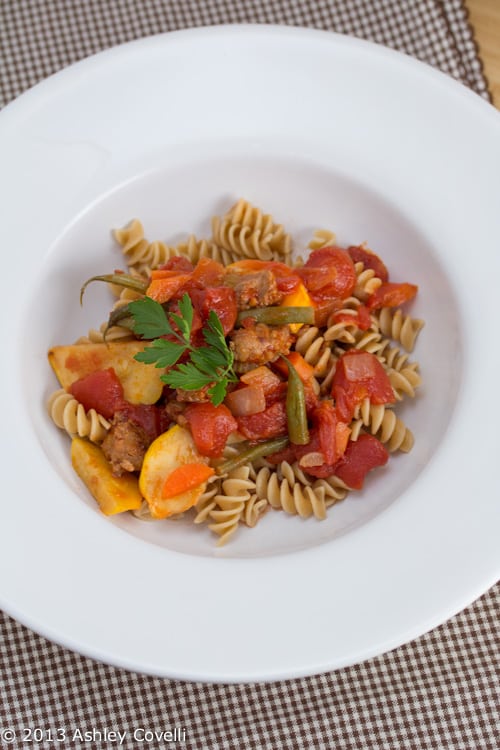 Rigatoni with Hot Sausage and Garden Veggie Sauce
Ashley Covelli
1 tablespoon extra virgin olive oil
1 pound hot Italian sausage, cases removed
1 onion, diced
1 clove garlic, minced
3 carrots, chopped
2 stalks celery, chopped
12 pattypan squash, trimmed and chopped
28 ounce can whole peeled San Marzano tomatoes
14.5 ounce can diced tomatoes
½ cup red wine
1-2 handfuls haricot verts
1 pound whole wheat rigatoni*, cooked al dente
Heat oil in a large non-stick skillet over moderate heat. Add sausage to the pan, breaking it up with a spoon or spatula as it cooks, until evenly browned. Add onion, garlic, carrots and celery and squash and stir to combine. Add both cans of tomatoes and the wine and stir again. When the sauce starts to simmer, add in haricot verts and stir gently. Reduce the heat and simmer until the veggies are tender and the sauce is at your desired thickness (I cooked it for about 20 minutes with the lid on, and then another 15 or so with the lid off). Serve over rigatoni. Enjoy!
*Optional: use Gluten Free
Big Flavors Rating: 4 Stars