This post may contain affiliate links, which won't change your price but will share some commission.
When I put the plates down on the table for lunch, Dino looked at me and said, "What is this?! This is the weirdest looking thing you have ever served me!" Haha! He was right - it looked strange. But it once we both took a bite, we were sold! This is a super light and refreshing vegan lunch. It was a little annoying to roll, so I think I'll do some other form of presentation with the leftovers. I really like the smoky flavor that the paprika adds, and the acidity in the salsa is great. I used a mix of mint and cilantro, and it turned out great. This definitely goes to show that vegan food doesn't have to be boring!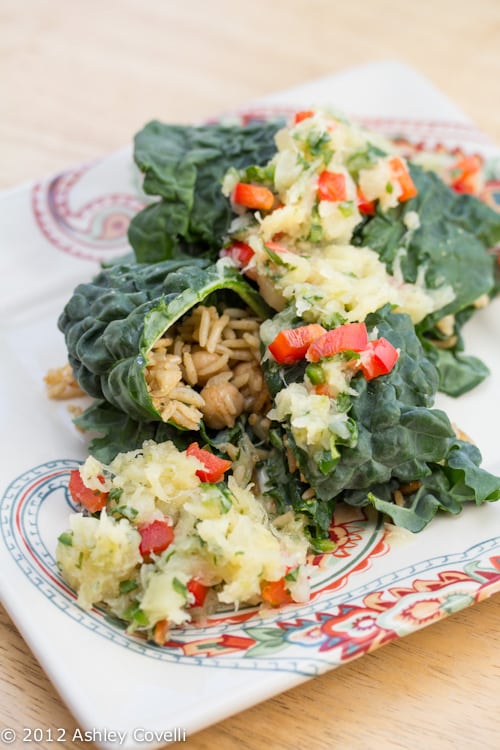 Rice and Chickpea Kale Rolls with Pineapple Salsa
Vegetarian Times January/February 2011
Serves 4
Lacinato kale is the easiest variety to fold for these emerald green rolls.
1 tsp. olive oil
½ cup finely chopped onion
1 cup cooked chickpeas
¾ cup low-sodium vegetable broth
½ cup white basmati rice
1 tsp. ground cumin
½ tsp. smoked paprika
¼ tsp. salt
12 large Lacinato kale leaves
1 20-oz. can crushed pineapple, drained
½ cup chopped red bell pepper
½ cup fresh mint or cilantro leaves, chopped
1 jalapeño chile, seeded and chopped
1 Tbs. grated lime zest
1 Tbs. fresh lime juice
1 tsp. sugar or agave nectar
To make Kale Rolls:
1. Heat oil in small saucepan over medium heat. Add onion, and cook 3 to 5 minutes, or until softened. Add chickpeas, broth, rice, cumin, paprika, and salt; bring to a boil. Cover, reduce heat to medium-low, and simmer 15 minutes, or until all liquid is absorbed. Cool.
2. Trim thick stems from center of kale leaves. Place 1 large or 2 small overlapping kale leaves on work surface with tip away from you. Pull together cut edges where stem was removed to overlap. Spoon 2 Tbs. chickpea mixture in center of bottom of leaf. Fold in sides, and roll up leaf to tip. Repeat with remaining kale and filling.
To make Salsa:
3. Stir together all ingredients in bowl. Season with salt and pepper, if desired. Serve Kale Rolls with Salsa.
Big Flavors Rating: 4 Stars