This post may contain affiliate links, which won't change your price but will share some commission.
I saw this post over at Gina's Skinny Recipes and thought it looked like a wonderful, quick meal. It was super easy to put together - the most time consuming part was peeling the shrimp. You can buy them already peeled and deveined, but I find it's less expensive to buy them split and deveined only, frozen. The fresh ones at the store have usually already been thawed, so you're actually getting fresher shrimp by buying them still frozen. Anyway, this recipe was a cinch to put together, and it was very good. I think that a squeeze of lime at the end may have been nice, but I'll try that out next time. It's definitely a good recipe to have for a quick weeknight meal.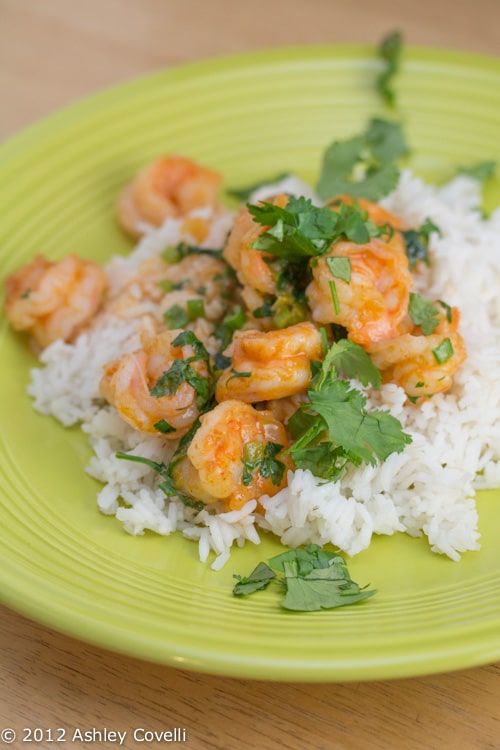 Red Thai Coconut Curry Shrimp
Gina's Skinny Recipes
Gina's Weight Watcher Recipes
Servings: 4 • Serving Size: ¼th • Old Points: 3 pts • Points+: 3 pts
Calories: 135 • Fat: 4.4 g • Protein: 18.5 g • Carb: 4.7 g • Fiber: 0.9 g
1 teaspoon oil
4 scallions, whites and greens separated, chopped
1 tablespoon Thai red curry paste
2 cloves garlic, minced
1 lb shrimp, peeled and deveined
6 oz light coconut milk
2 teaspoon fish sauce
¼ cup fresh cilantro, chopped
salt to taste
In a large nonstick skillet, heat oil on medium-high. Add scallion whites and red curry paste and sauté one minute. Add shrimp and garlic, season with salt and cook about 2-3 minutes. Add coconut milk, fish sauce and mix well. Simmer about 2-3 minutes, until shrimp is cooked through. Remove from heat, mix in scallion greens and cilantro. Serve over rice and enjoy!
Big Flavors Rating: 4 Stars