This post may contain affiliate links, which won't change your price but will share some commission.
As much as I try, I am not always MacGyver in the kitchen. My sieve isn't big enough to handle all of this quinoa, and I thought I could rig something with my colander and some cheesecloth...let's just say it didn't work. Let's just say that this recipe took me a lot longer to prepare because of my undersized sieve. Let's just say that I did try to find a bigger one at the store this morning before I even tried to make this dish, but they didn't have one. Let's just say that I made a big mess, and I ended up doing the steaming part of the quinoa preparation in two batches.
Thankfully, it was so worth it. This recipe is really great! It's fresh and bright, and doesn't need a ton of ingredients to satisfy. It's one of those recipes that was >thisclose< to getting 5 stars from us. Ah, if we only gave out half stars. But we don't. But this recipe gets an unspoken half after that 4th star for sure. And there's a ton leftover, so lunchtime will be great for the next few days!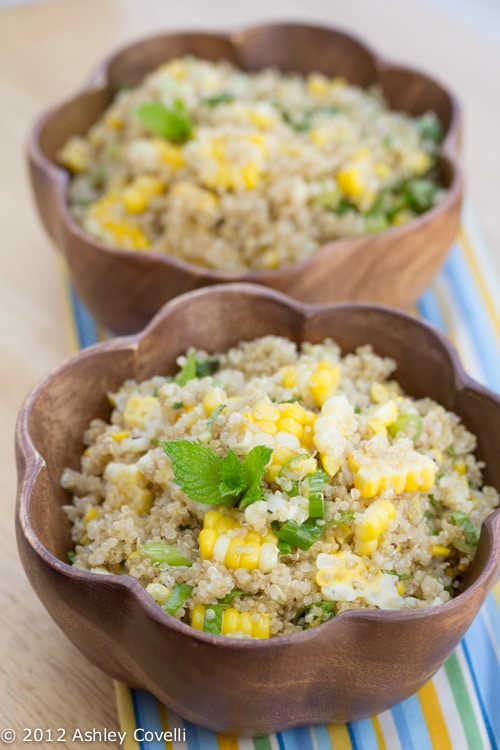 Quinoa with Corn, Scallions, and Mint
Gourmet August 2006
yield: Makes 8 servings
active time: 30 min
total time: 30 min
Steamed quinoa has an unbelievably light and fluffy texture. If you can get fresh-picked corn, you can add it to the salad raw—even without cooking, the kernels will be sweet and tender.

4 ears corn, shucked
1 tablespoon finely grated fresh lemon zest (from 2 lemons)
2 tablespoons fresh lemon juice
½ stick (¼ cup) unsalted butter, melted
1 tablespoon mild honey
½ teaspoon salt
¼ teaspoon black pepper
2 cups quinoa (about 10 oz)
4 scallions, chopped
½ cup chopped fresh mint
Put corn in a 5- to 6-quart wide pot, then add water to cover and bring to a boil, covered. Remove from heat and let stand, covered, 5 minutes. Transfer corn with tongs to a cutting board. When cool enough to handle, cut kernels off cobs with a large heavy knife.
Meanwhile, whisk together lemon zest and juice, butter, honey, salt, and pepper in a large bowl until combined.
Wash quinoa in 3 changes of cold water in a bowl, draining in a large sieve each time.
Cook quinoa in a 4- to 5-quart pot of boiling salted water, uncovered, until almost tender, about 10 minutes. Drain in sieve, then set sieve over same pot with 1 inch of simmering water (water should not touch bottom of sieve). Cover quinoa with a folded kitchen towel, then cover sieve with a lid (don't worry if lid doesn't fit tightly) and steam until quinoa is tender, fluffy, and dry, about 5 minutes. Remove from heat and let stand (still covered) 5 minutes.
Add quinoa to dressing and toss until dressing is absorbed, then stir in corn, scallions, mint, and salt and pepper to taste.
Big Flavors Rating: 4 Stars