This post may contain affiliate links, which won't change your price but will share some commission.
A while back, I started making April Bloomfield's English Porridge. It was the first type of porridge I had ever made, and it was a big hit at the breakfast table. My toddler, now asks for "poe-shoe" about once a week.
So I decided to seek out a few new porridge recipes.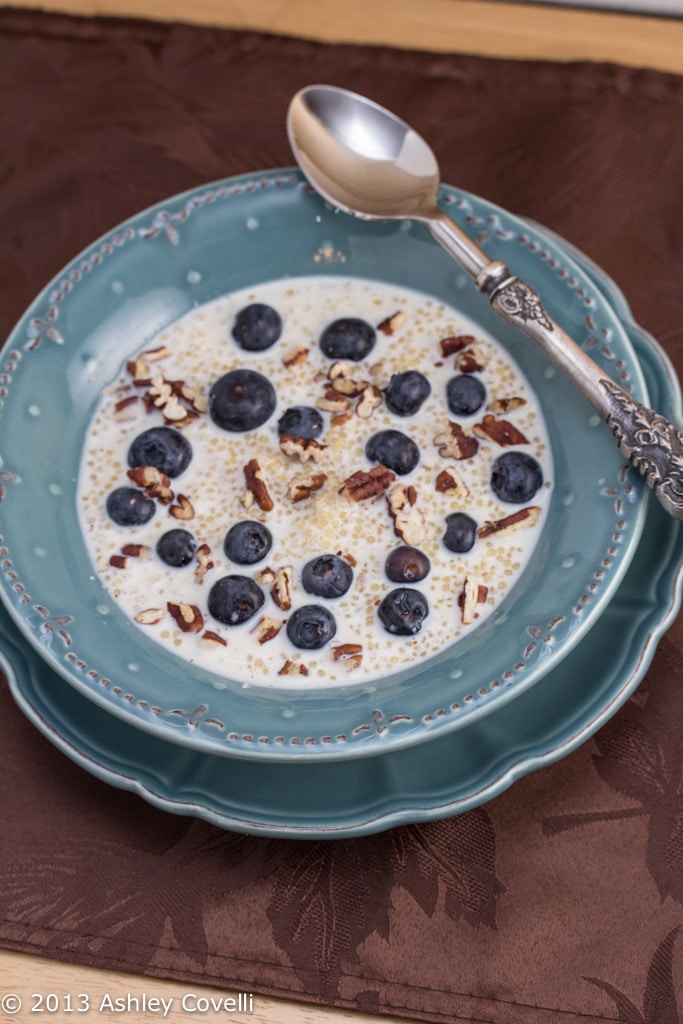 This was an interesting spin on porridge, that uses quinoa instead of oats. The flavor is nice and mild, and we really liked the addition of toasted nuts on top. Plus, I'm always a fan of berries with my breakfast.
The consistency was too thin for our taste, though. I ended up mixing some rice cereal into my son's so it was easier for him to eat. Next time, I'd cut back on the amount of liquid (or add more quinoa). It was a nice option, but I think I'm going to keep looking for more options.
Quinoa Porridge with Blueberries and Pecans
Closet Cooking

Servings: makes 1 serving
Prep Time: 5 minutes
Cook Time: 15 minutes
Total Time: 20 minutes
Ingredients
½ cup quinoa, rinsed
1 ½ cup milk*
¼ teaspoon vanilla extract
1 dash cinnamon
1 tablespoon maple syrup
¼ cup blueberries
1 tablespoon pecans, toasted and coarsely chopped
Bring the quinoa, milk, vanilla, cinnamon and maple syrup to a boil, reduce the heat and simmer, covered until tender, about 15 minutes.
Mix in the blueberries, add more mil to taste and top with the pecans.
*Optional: use dairy-free milk alternative, such as soy or almond.
Big Flavors Rating: 3 Stars