This post may contain affiliate links, which won't change your price but will share some commission.
I found some ramps at the Farmers' Market on Saturday, and I wasn't sure exactly what I wanted to do with them. I thought pickling might be a fun route to go with them. This recipe for Quick Pickled Ramps stood out to me. This way, I could enjoy the ramps for more than just one time - because those bad boys are expensive! The bunch of ramps I got only had 10, so I cut the recipe in half. They smelled wonderful while I was making them (although cooking large amounts of vinegar is always a surefire way to clear out your sinuses!) and I'm looking forward to trying them out. Right now, they're sitting in the fridge waiting for me to QC them. I'll update the post with a rating after we dig in. I'm definitely going to try out making a salad dressing with the pickling liquid like the author recommends - yum!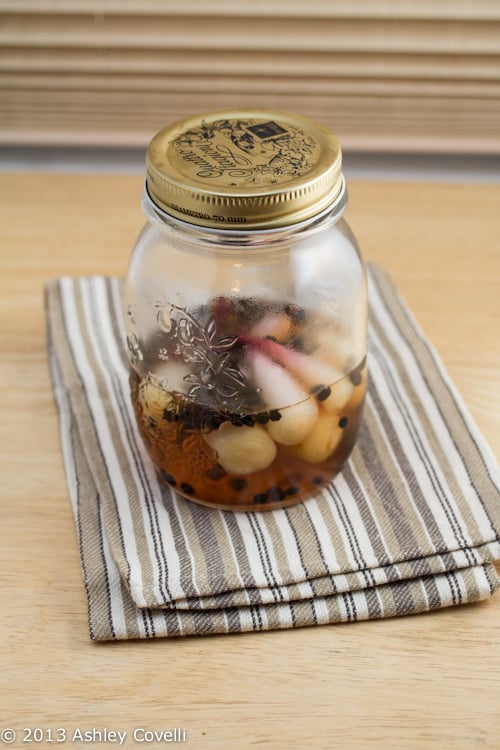 Quick Pickled Ramps
A Stack of Dishes
A simple quick pickling recipe that only takes a day or marinating before you can enjoy them. It's a good recipe for other tender vegetables too. Makes 2-3 jars of pickles.
2 bunches of ramps~ about 40 stems
2 cups of white wine vinegar
⅔ cups sugar
1 Tablespoon black peppercorns
1 Tablespoons juniper berries
1 teaspoon salt
Sterilized jars
Wash the ramps and trim the root ends and the first filmy layer from the bulb.
Trim the bulb ends off up to where the leaf starts. Save the greens for another dish.
Warm the vinegar, sugar, spices and salt in a saucepan and bring to the boil. Turn off and allow the brine to steep until cool, about 20 minutes.
Reheat the brine to a simmer. Blanch the ramps in the hot brine for about 30 seconds. They will turn a bright beautiful pink color. Remove the ramps and divide between your jars- keeping them covered.
Allow the brine to cool again for 10-15 minutes, then pour the brine over the ramps and cover.
That's it- now just let them stew for a day or two before you dig in.
Notes: These are refrigerator pickles and are not meant to be "put up" in the traditional sense. Please keep them cold until ready to eat them. The brine is also a wonderous thing that is wonderful as the acid in a salad dressing or other recipes.
Big Flavors Rating: 5 Stars