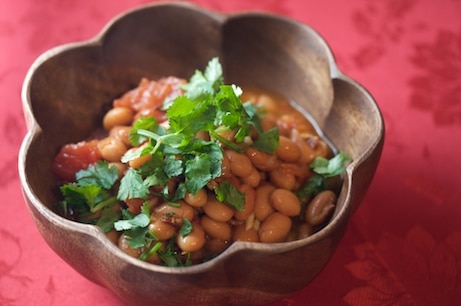 Quick Cowboy Beans (Frijoles Charros Rapidos)
This post may contain affiliate links. Thank you for supporting the brands that keep me creative in my tiny kitchen!
I made this to go with the Chipotle Beef Tacos, and it was a great side dish. I used 2 pickled jalapenos and it was quite spicy. We ended up adding a nice dollop of sour cream at the end to add a nice cooling bit to this meal and it worked out great.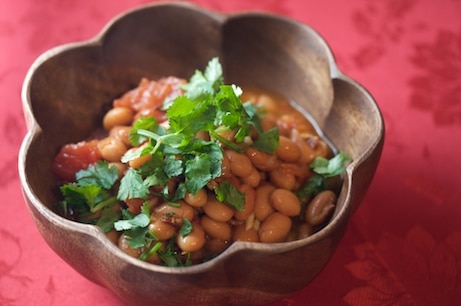 Quick Cowboy Beans (Frijoles Charros Rapidos)
Mexican Everyday – Rick Bayless
Serves 4 to 6
4 thick slices bacon, cut into small pieces
2 garlic cloves, peeled and finely chopped or crushed through a garlic press
Half of a 15-ounce can diced tomatoes in juice (preferably fire-roasted)
3 1/2 cups home-cooked pinto beans (see page 82) with enough cooking liquid to cover OR two 15-ounce cans pinto beans
1 or 2 canned pickled jalapenos-or more if you like spicy beans
Salt
1/2 cup chopped cilantro
In a large (4-quart) saucepan, cook the bacon over medium heat, stirring regularly, until crisp, about 4 minutes. Add the garlic and stir for a minute, then add the tomatoes with their juice. Cook, stirring regularly, for 3 to 4 minutes to blend the flavors. Add the beans, with their liquid, and simmer over medium-low heat for about 15 minutes.
While the beans are simmering, stem the chiles, cut in half lengthwise and scrape out the seeds. Chop into small pieces and add to the beans.
Taste and season with salt if necessary-if the beans you use were already seasoned, you probably won't need any more salt. Ladel into small bowls, sprinkle with the cilantro and serve.
MacGourmet Rating: 4 Stars