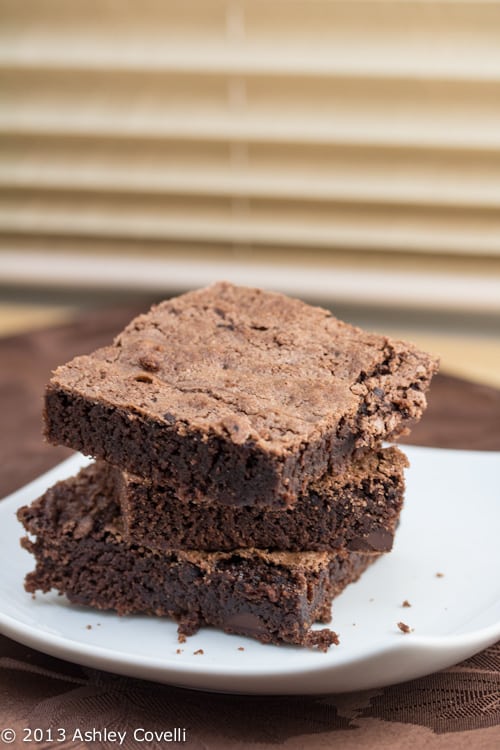 This post may contain affiliate links, which won't change your price but will share some commission.
We were on our way home from visiting my in-laws on Sunday night, and I said to Dino, "I could REALLY go for brownies right now". And you know what? We got home, he put our toddler to bed… and went in the kitchen and made me brownies. From scratch. No questions. Found a recipe online, mixed it up, baked it, AND did the dishes while they baked. Whaaaaaaat?! They may have tasted extra good because of the awesomeness that went into making them! He checked out some of the comments online and decreased the flour so they'd be more moist, and omitted the walnuts for chocolate chips. Because what makes brownies better? MORE CHOCOLATE. Obviously. I think I'll keep him around for a while 😉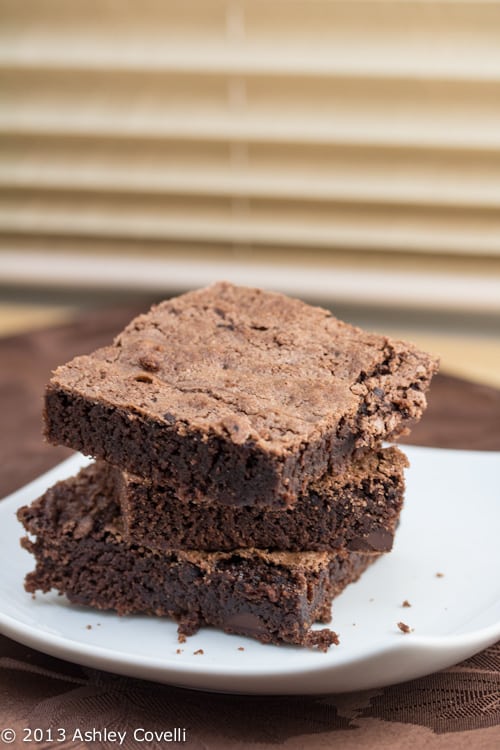 Quick and Easy Brownies
Adapted from Allrecipes – C. Nelson
2 cups white sugar
1 cup butter
1/2 cup Dutch process cocoa powder
1 teaspoon vanilla extract
4 eggs
1 cup all-purpose flour
1/2 teaspoon baking powder
1/2 teaspoon salt
1/2 cup chocolate morsels
Melt the butter or margarine and mix all ingredients in the order given.
Bake at 350 degrees F for 20 to 30 minutes in a 9 x 13 inch greased pan.
Big Flavors Rating: 4 Stars