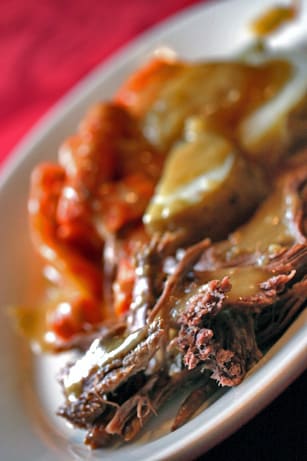 This post may contain affiliate links. Thank you for supporting the brands that keep me creative in my tiny kitchen!
I decided to make my favorite pot roast recipe (my mom's, of course!) in my new pressure cooker today, and wow! If I would have known that I could cook something this good for an hour as opposed to 3, I would have gotten one of these things a long time ago!
Also, my my new lighting set up is now complete! I'll be tweaking it over the next few days, so look out for new and improved photos! Woohoo!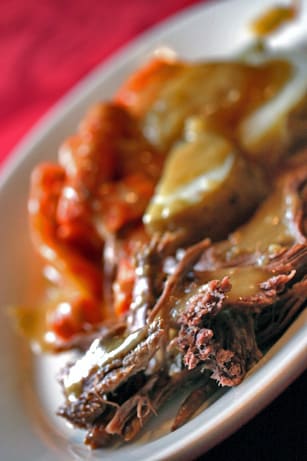 Pot Roast
Mom
1 2-3 lb. chuck roast
small bag carrots, roughly chopped
2 white onions, whole if small or cut in half if large – or 1 bag pearl
2 cloves garlic, whole
4 potatoes, split down the middle lengthwise
1 cup water
olive oil, barely cover bottom of pan
to taste salt & pepper
flour, to coat top & bottom of roast
Preheat oven to 325°. Heat oil in Dutch oven on top of stove (Let oil get really hot to sear well). Flour and season both sides of roast. Sear on both sides. Lay garlic on top of meat and add rest of ingredients and cover. Bake for 2 – 3 hours (until you can stick a fork into the meat and it feels tender).
Use drippings to make gravy to go alongside.
MacGourmet Rating: 5 Stars