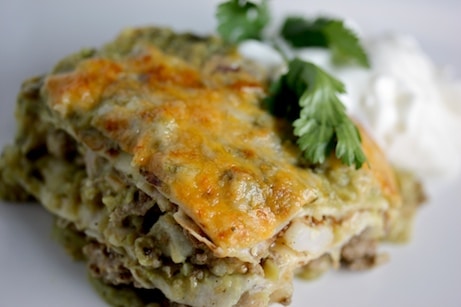 This post may contain affiliate links. Thank you for supporting the brands that keep me creative in my tiny kitchen!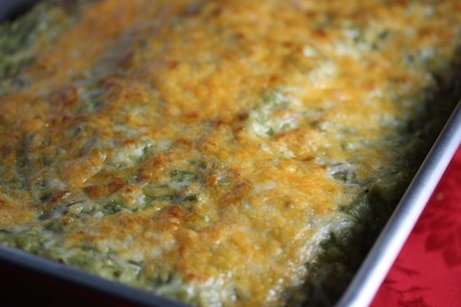 I saw this on 30-Minute Meals over the weekend, and it looked so good that I had to try it this week. It didn't disappoint! It was incredibly flavorful, and Dino and his parents raved about it. The only substitution I made was that I used a bag of Mexican cheese blend in the dish. And my only complaint (other than the splatter of burns I got from some hot oil while cooking it…grrrr….) is that it took MUCH longer than 30 minutes to make this dish. Give yourself more time than you think you need if you decide to make this…but just keep in mind that it'll be well worth it!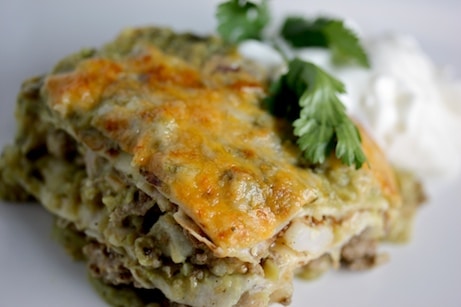 Posole Mexican Lasagna
30-Minute Meals – Rachael Ray
Yield 6 servings
Prep: 10 min
Cook: 20 min
Total: 30 min
2 tablespoons extra-virgin olive oil
2 lbs. ground pork
1 tablespoon ground cumin
1 tablespoon ground coriander
Salt and freshly ground black pepper
1 (15-ounce) can hominy
1 large red onion, chopped
4 cloves garlic, grated or chopped
2 jalapeno or serrano peppers, chopped
12 large tomatillos (14 to 16 if small), peeled and coarsely chopped
A handful cilantro or parsley leaves
3 avocados
2 limes
2 tablespoons honey
1 package large flour tortillas
1 lb. pepper Jack cheese, shredded
Sour cream, to pass at table
Place rack in oven in middle of oven and heat broiler or place oven on 400 degrees F.
Heat 1 tablespoon extra-virgin olive oil, a turn of the pan, in a skillet over medium-high heat. Add pork and crumble up as it browns. While pork browns, season the meat with cumin, coriander and salt and pepper. Once browned evenly, stir in hominy and reduce heat to simmer.
While meat cooks heat 1 tablespoon olive oil in a sauce pot, add onions, garlic and peppers, season with salt and pepper and saute until softened 5 to 6 minutes. Place tomatillos and cilantro or parsley in food processor and process until almost smooth. Pour into onion and garlic mixture and simmer to mellow, 5 to 6 minutes more. Replace the processor bowl. Pit and scoop the avocado flesh into the processor, add the lime zest and juice. Add the honey, puree until smooth and season with a little salt. Stir the avocado mixture into the green sauce and remove from heat.
Char all of the tortillas over an open flame or in dry hot skillet.
In a baking dish layer sauce, tortilla, meat, cheese, tortilla, sauce, meat, cheese, etc. End with a layer of tortilla, sauce and finally cheese. Place baking dish in the oven and bake for 4 to 5 minutes until bubbly and cheese is brown. Pass sour cream at the table.
MacGourmet Rating: 5 Stars