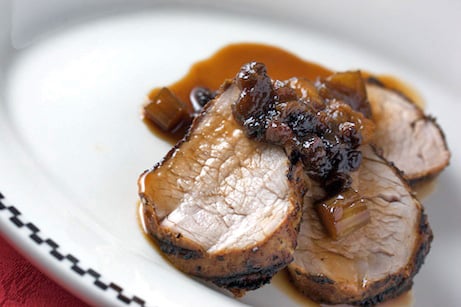 Pork Tenderloin with Rhubarb-Currant Chutney
This post may contain affiliate links. Thank you for supporting the brands that keep me creative in my tiny kitchen!
I harvested some rhubarb from my remote garden over at my in-laws' house for the third time this season, and finally decided to try out a new recipe with it. I make Rhubarb Custard Pie every time I get my hands on some rhubarb, but since my plant is doing so well this season, I figured I had to give a few new recipes a go. Boy am I ever glad I did! This dish is amazing! The smoky grilled flavor pairs so nicely with the tart-sweet chutney. This is a definite keeper, and one that would surely impress even the toughest critics!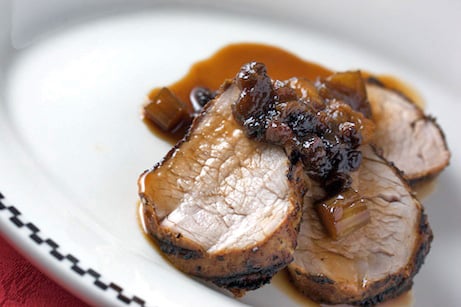 Pork Tenderloin with Rhubarb-Currant Chutney
Epicurious
Makes 6 servings
The sweet yet tangy chutney lends an exotic flavor to grilled pork — or chicken or salmon. The dark brown sugar stands up to the other intense ingredients.
¾ cup (packed) dark brown sugar
⅓ cup apple cider vinegar
2 tablespoons water
1 tablespoon minced peeled fresh ginger
1 ½ teaspoons grated lemon peel
1 cinnamon stick
2 cups 1/2-inch pieces fresh rhubarb
½ cup dried currants
2 1-pound pork tenderloins
1 tablespoon vegetable oil
Bring first 6 ingredients to boil in heavy medium saucepan over high heat, stirring until sugar dissolves. Reduce heat to low and simmer 5 minutes. Increase heat to medium-high. Add rhubarb and currants; bring to boil. Reduce heat to low and simmer gently until rhubarb is tender, about 5 minutes. Season chutney with salt. (Chutney can be made 3 days ahead. Cool slightly. Cover and refrigerate. Rewarm before using.)
Prepare barbecue (medium-high heat). Rub pork with oil and sprinkle with salt and pepper. Grill pork until thermometer inserted into thickest part registers 150°F, turning occasionally, about 20 minutes. Using tongs, transfer pork to cutting board; let pork rest 10 minutes. Cut pork into 1/2-inch-thick slices. Serve with chutney.
MacGourmet Rating: 5 Stars