This post may contain affiliate links, which won't change your price but will share some commission.
I had a piece of pork tenderloin that I needed to use up, and I found this recipe and thought it looked perfect. The pears at my grocery store didn't look too great, so I picked some red pears instead of Bosc or Anjou. They were the best out of what was there. I also have a ton of fresh thyme in my garden that I keep neglecting to use up, so this was a good way to use a bit of it. This recipe was really superb! The caramelization on the shallots and pears was delicious, and the pork was cooked to perfection. The sauce was the perfect way to round it out. The only thing it needs is a bit of salt and pepper at the end to really bring it all together. My only other comment on the recipe is that you don't need to use an ovenproof skillet, because the skillet doesn't go in the oven - you transfer the pork to a separate pan that you put into the oven. I'll definitely be making this one again. It would be perfect for a dinner party, paired with a nice salad. This really, really impressed us.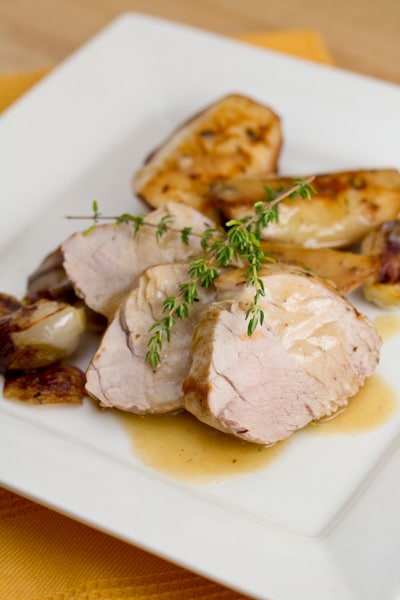 Pork Tenderloin with Pears and Shallots
Bon Appétit January 2010
3 tablespoons olive oil
2 garlic cloves, finely chopped
1 tablespoon chopped fresh thyme plus fresh thyme sprigs for garnish
1 ¼-pound pork tenderloin
3 large shallots, each cut into 6 wedges through stem end, peeled
3 unpeeled small Bosc or Anjou pears, quartered, cored
4 teaspoons butter, room temperature
2 teaspoons all purpose flour
1 ½ cups low-salt chicken broth
¾ cup pear nectar
Preheat oven to 475°F. Mix oil, garlic, and chopped thyme in small bowl. Rub mixture over pork, shallots, and pears. Heat large ovenproof nonstick skillet over medium high heat. Add pork and shallots; brown on all sides, turning, about 7 minutes. Transfer shallots to platter. Transfer pork to baking sheet (do not clean skillet). Roast pork until thermometer inserted into center registers 145°F, about 10 minutes.
Meanwhile, add pears to same skillet and cook over medium-high heat until brown on cut side, turning once or twice, about 4 minutes. Transfer pears to platter (do not clean skillet).
Mix butter and flour in small cup. Add broth, pear nectar, and butter mixture to same skillet; boil until sauce thickens, scraping up browned bits, about 7 minutes.
Slice pork; arrange on platter. Surround with pears and shallots. Drizzle sauce over pork. Garnish with thyme sprigs.
Big Flavors Rating: 5 Stars