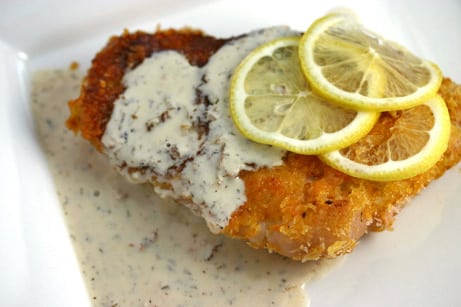 This post may contain affiliate links. Thank you for supporting the brands that keep me creative in my tiny kitchen!
The flavors in this were good, but it just didn't turn out right for me. I didn't pound the chops thin enough, the sauce wouldn't thicken, and tenting foil over the cooked chops made the panko get really soggy. So it tasted good, but texturally it just wasn't there. I dunno. When I came across this recipe a while back, it just looked sooo good that I might have to try it again sometime. Maybe fresh dill would have helped a lot too. Hmm…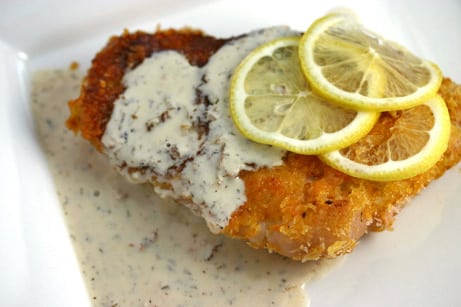 Pork Schnitzel
Simply Recipes
4 boneless pork chops (1 pound total), 1/2 inch thick
¼ cup flour
1 teaspoon seasoned salt (Spike or Lawrey's, or just substitute plain salt)
¼ teaspoon freshly ground black pepper
1 egg, beaten
2 tablespoons milk
¾ cup fine dry bread crumbs or panko
1 teaspoon paprika
3 tablespoons olive oil, canola oil, or grapeseed oil
¾ cup chicken stock
½ teaspoon dried dill or 2 teaspoons chopped fresh dill
½ teaspoon salt
½ cup sour cream
1 Use a meat hammer to pound the pork cutlets to 1/4-1/8 inch thickness. Cut small slits around the edges of the cutlets to prevent curling.
2 Set out 3 shallow bowls. One with a mixture of the flour, seasoned salt, and pepper. The second with the egg and milk whisked together. The third with a mixture of the bread crumbs (or panko) and paprika.
3 Heat the olive oil in a large skillet on medium high heat. Dredge the cutlets first in the seasoned flour, then dip the cutlets in the egg mixture, and then into the mixture of bread crumbs and paprika.
4 Working in batches, sauté the cutlets for 3-4 minutes on each side. Remove the cutlets from the skillet and cover with foil or place in a warm oven to keep warm.
5 Add the chicken stock into the skillet to deglaze the pan, scraping the bottom of the pan to loosen the brown bits. In a small bowl mix the dill and salt into the sour cream. Stir the sour cream mixture into the chicken stock. Heat and stir until mixture thickens (do not let boil).
Serve the cutlets with the sauce, and lemon slices if you like. Serves 4.
MacGourmet Rating: 3 Stars