This post may contain affiliate links, which won't change your price but will share some commission.
This was one of the "morph recipes" listed for this pork dish that I made a few days ago. It turned out OK. I dunno, for some reason, the last few times I've used Minute Rice, it hasn't soaked up enough of the liquid. I had to simmer it uncovered for a while to try to get some of the liquid to evaporate. The pork was definitely better the first night I made it, but it's really cool to be able to turn one recipe into a few distinctly different meals.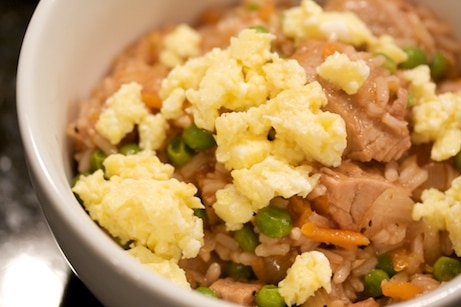 Pork Fried Rice
Quick Fix Meals - Robin Miller
Serves 4
Total Time: 20 to 24 minutes
Prep Time: 5 minutes
Active Cooking Time: 10-14 minutes
Walk-away Time: 5 minutes
4 teaspoons peanut oil, divided
2 large eggs, slightly beaten
½ cup chopped onion
½ cup shredded carrots
3 cloves garlic, minced
1 cup quick-cooking white rice
¼ cup hoisin sauce
2 cups reduced-sodium chicken broth
1 ½ cups diced leftover pork
½ cup frozen green peas
Salt and freshly ground black pepper
Heat 2 teaspoons of oil in a large skillet over medium heat. Add the eggs and cook, stirring frequently, until cooked through and scrambled, 3 to 5 minutes. Remove the eggs to a plate and keep warm.
To the same skillet, still over medium heat, heat the remaining 2 teaspoons oil. Add the onion, carrots and garlic and cook until softened, about 2 minutes. Add the rice and cook for 1 minute, stirring constantly to coat with the oil. Add the hoisin and stir to coat the rice. Add the broth, pork, and peas and bring to a boil. Remove from the heat, cover, and let stand until the liquid is absorbed and the rice tender, about 5 minutes. Fluff with a fork and season to taste with salt and pepper.
Transfer the fried rice to individual plates. Chop the cooked egg into small pieces and sprinkle over the rice just before serving.
Good Health Note:
To eliminate about 40 calories and 10 fat grams from the dish, substitute ½ cup fat-free liquid egg substitute for the 2 large eggs.
MacGourmet Rating: 3 Stars