This post may contain affiliate links, which won't change your price but will share some commission.
I made a few recipes from this book back when I checked it out from the library. Everything I made was really tasty, so I asked for my own copy for Christmas. My mom got me a copy, and I was really excited to make something in the new kitchen. I picked a recipe that I could use swordfish in, and it was really tasty! It had just the right amount of spice to clear out your sinuses but not totally blow your head off. It was pretty easy to put together, and it packed a ton of flavor for not a lot of ingredients. I read through the recipe before I went to the store, but somehow I missed the note about mustard oil, so I substituted some really good quality extra virgin olive oil, and it was wonderful. I'm curious about mustard oil now, and would be willing to try this recipe out again just to taste it. The turmeric turns the fish a beautiful yellow, which really compliments the green chiles and herbs.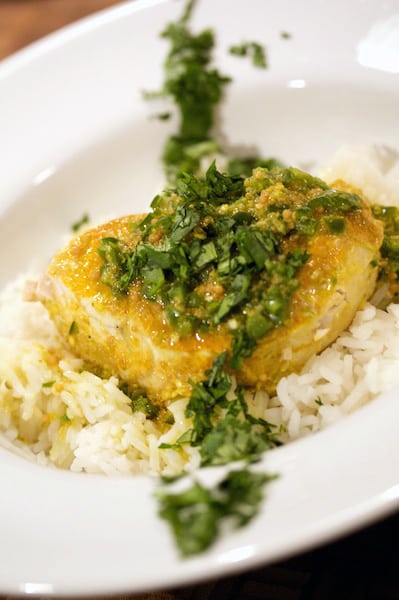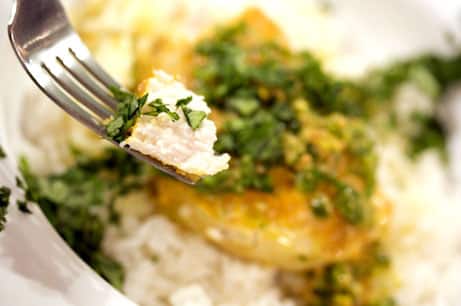 Poached Fish In A Mustard Chile Sauce (Sorshe Maach)
660 Curries: The Gateway to Indian Cooking - Raghaven Iyer
½ teaspoon ground turmeric
1 pound skinless firm-fleshed fish fillets, such as cod, halibut, swordfish, sea bass, or pollock
1 tablespoon black or yellow mustard seeds
4 fresh green Thai, cayenne or serrano chiles, stems removed
3 tablespoons mustard oil (see Tip)
1 teaspoon coarse kosher or sea salt
1 teaspoon white granulated sugar
2 tablespoons finely chopped fresh cilantro leaves and tender stems for garnishing
1. Sprinkle the turmeric over the fish, rubbing both sides of the fillets. Refrigerate, covered, for at least 30 minutes or as long as overnight, to allow the spice to flavor the fillets.
2. Combine the mustard seeds and chiles in a mortar, and grind and pound them with the pestle to release the mustard's nose-tingling aroma and to create a yellowish-green, slightly gritty paste. (Alternatively, you can grind the mustard seeds in a spice grinder until the texture resembles that of finely cracked black peppercorns. Finely chop the chiles, seeds and all, and add them to the ground mustard seeds.)
3. Heat 2 tablespoons of the oil in a large skillet over medium-high heat. Add the pungent paste and stir-fry until it is sunny brown, about 1 minute. Quickly pour in ½ cup water, scraping the skillet to deglaze it, releasing the browned bits of spice. Stir in the salt and sugar.
4. Lay the fish fillets in a single layer in the skillet, and spoon the sauce over them. Lower the heat to medium, cover the skillet, and poach the fillets until they are barely starting to flake, 5 to 7 minutes.
5. Sprinkle with the cilantro, drizzle with the remaining 1 tablespoon oil, and serve.
Tip: I have not recommended an alternative to the mustard oil in this recipe. Unlike canola oil, its pungency will enliven this curry, so please make the effort to make a trip to your Indian grocery store.
MacGourmet Rating: 4 Stars