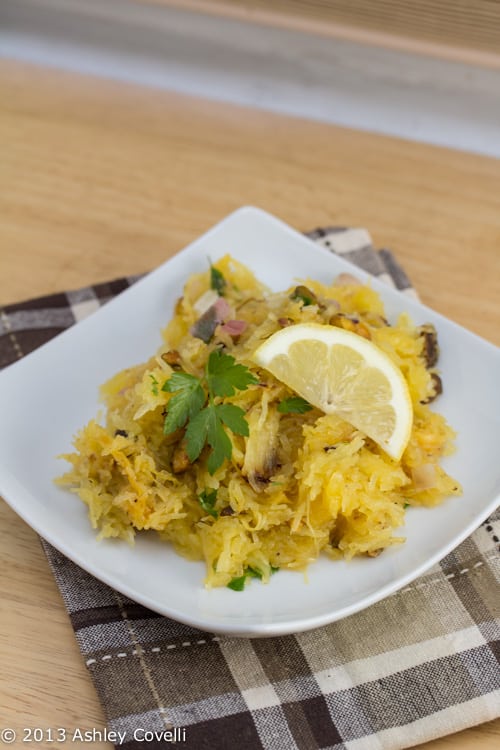 Pistachio Lemon Spaghetti Squash
This post may contain affiliate links, which won't change your price but will share some commission.
This is the second dish I've made from the Virgin Vegan cookbook that I won a few weeks back. I've cooked spaghetti squash a few times before, so I halved it, put it on an oiled sheet pan and roasted it for 45 minutes instead of whole and then cut for an hour. It turned out great. I liked the crunch that the pistachios added to it, and the lemon flavor was nice and bright. My only comment is that this is nowhere near 6 main course servings. Granted, my squash wasn't as big as it could have been, but even if it was, I could see it being 3-4 servings, unless you're using this as a side dish. So adjust accordingly and enjoy!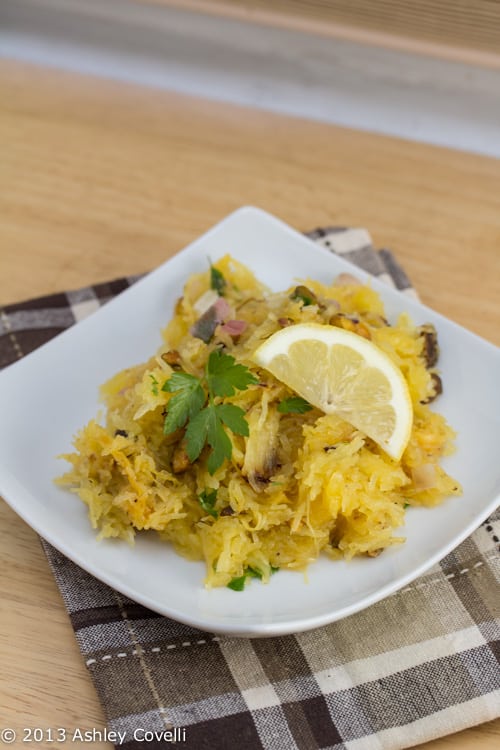 Pistachio Lemon Spaghetti Squash
Virgin Vegan: Everyday Recipes for Satisfying Your Appetite – Donna Kelly and Anne Tegtmeier
Makes 4-6 Servings
1 large spaghetti squash
3 tablespoons olive oil, divided
1 shallot, minced
1 clove garlic, minced
2 tablespoons minced parsley
1 teaspoon lemon zest
1 tablespoon lemon juice
Salt and pepper, to taste
1/4 cup diced pistachios
Preheat oven to 375 degrees.
Bake whole squash for 30 minutes on a baking sheet. Remove from oven and cut squash in half lengthwise. Scoop out seeds in center. Brush cut sides of squash with 1 tablespoon oil. Place cut sides down on a baking sheet and return to oven to bake another 30 minutes.
While squash is baking, sauté shallot in remaining oil in a large skillet over medium-high heat for 2-3 minutes, until softened. Add garlic and cook another minute. Remove from heat and stir in parsley, lemon zest, and juice.
Remove squash from oven and separate strands of cooked squash flesh with a fork. Place in skillet and toss. Add salt and pepper to season. Stir in pistachios. Serve immediately.
Big Flavors Rating: 4 Stars