This post may contain affiliate links, which won't change your price but will share some commission.
This quick and easy recipe was perfect for a busy weeknight. We really enjoyed it, and it was super low maintenance. The Parmesan makes it nice and buttery, and the lemon adds a nice, tangy finish. We liked this a lot, and I'll definitely make it again. It went really well with the Caper and Sun Dried Tomato Couscous with Parsley that I made on the side.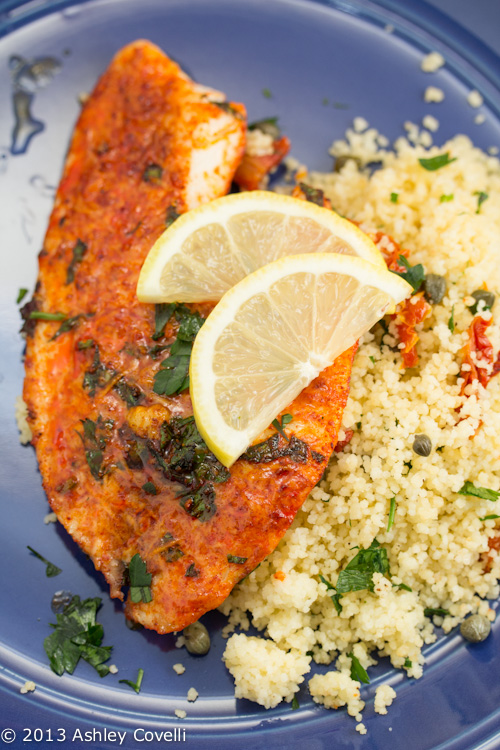 Parmesan-Crusted Tilapia
Every Day with Rachael Ray - October 2006
It takes only five ingredients to make this tender fish dish!
Makes: 4 servings
Prep: 10 mins
Cook: 10 mins
¾ cup freshly grated Parmesan cheese
2 teaspoons paprika
1 tablespoon chopped flat-leaf parsley
4 tilapia fillets (about 1 pound total)
1 lemon, cut into wedges
Preheat the oven to 400 degrees . In a shallow dish, combine the cheese with the paprika and parsley and season with salt and pepper. Drizzle the fish with olive oil and dredge in the cheese mixture. Place on a foil-lined baking sheet and bake until the fish is opaque in the thickest part, 10 to 12 minutes. Serve the fish with the lemon wedges.
Big Flavors Rating: 4 Stars