This post may contain affiliate links, which won't change your price but will share some commission.
I made this recipe once before when I was doing recipe testing for Jaden's cookbook, and it blew me away! Now that the book has been out for a while, I can finally share the recipe with you guys! And let me just say - this is one of the only things I've been able to cook AND eat since I've been pregnant without giving up halfway through. All in all it was a big success for tonight! This makes the perfect amount for 2 people (with possibly one or 2 pieces leftover) if you serve it over rice.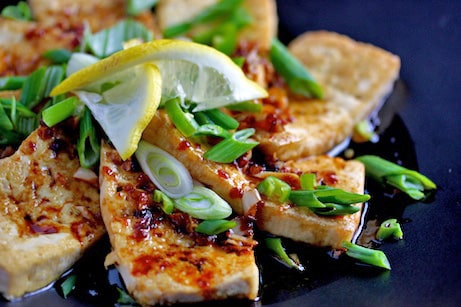 Pan-fried Tofu with Dark Sweet Soy Sauce
The Steamy Kitchen Cookbook: 101 Asian Recipes Simple Enough for Tonight's Dinner - Jaden Hair
Serves 4 as part of a multicourse meal
2 tablespoons Chinese dark soy sauce
2 tablespoons honey
1 teaspoon rice vinegar
1 teaspoon sambal oelek (or other chili garlic hot sauce)
1 14 oz. block firm tofu
2 tablespoons high-heat cooking oil
1 tablespoon minced garlic
1 fresh chili of your choice, sliced (optional)
1 green onion (scallion), sliced or chopped
1. In a small bowl, combine the soy sauce, honey, rice vinegar and sambal oelek. Mix and set aside.
2. Cut the block of tofu into ½ inch thick slices. Place 3 layers of paper towels on a clean, dry work surface. Arrange 3 of the tofu slices and fold the paper over, pressing down to squeeze out some water. Repeat with all remaining slices.
3. Set a large frying pan over high heat. Pour enough oil to coat the surface. Add the tofu slices into the pan but not touching each other. (You may have to fry in 2 batches.) Fry the tofu until the bottom is gold-brown, about 2-3 min. Tofu slices will release themselves from the pan when they are ready. Carefully flip the tofu, away from you (the tofu may splatter) to fry on the other side. Remove from the pan and drain on a rack or paper towel.
4. Drain all but 1 teaspoon of cooking oil from the pan and return to medium heat. When the pan is hot, add garlic and fry until fragrant, about 15-30 sec. Pour in the soy sauce mixture and let simmer for 30 seconds to thicken slightly. Pour the sauce over the tofu. Top with fresh chili and green onion.
BigFlavors Rating: 5 Stars