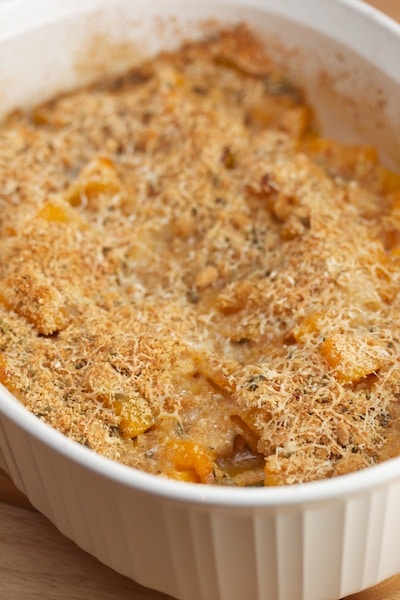 Onion and Kabocha Squash Gratin
This post may contain affiliate links. Thank you for supporting the brands that keep me creative in my tiny kitchen!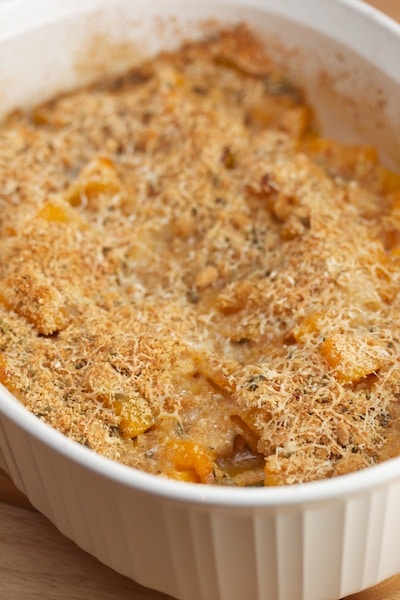 My mother-in-law gave me a squash that she got from a friend's garden. She couldn't remember what kind it was, but figured I'd put it to good use. When I was at the Farmers' Market, I saw some that looked similar, and figured out that what I had was a kabocha squash. When you cut into it, it smells exactly like a cantaloupe. It's bizarre! The outside skin was dark green, and the inside flesh is bright orange. It's a beautiful squash!
I looked up recipes and came across this post over at Stephen Cooks! This recipe was phenomenal! The onions sweeten the gratin, and the panko (I used only panko, no regular breadcrumbs) add a wonderful crunch to the top. I used rosemary and thyme from my garden, and it was wonderful.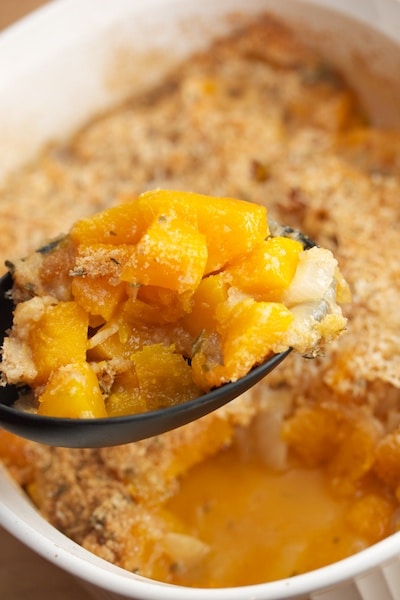 Onion and Kabocha Squash Gratin
Stephen Cooks!
2 lb kabocha (Sweet Mama) squash, peeled and cut in 1/2″ chunks
3 T + 1 T butter
2 medium onions, thinly sliced
1 C low sodium chicken or vegetable broth
1/2 C panko flakes
1/2 C unflavored breadcrumbs
2 T minced fresh herbs (rosemary, oregano or thyme work well)
1/4 C Parmeggiano Reggiano
salt, hot sauce, to taste
Sauté the onions in the 3 tablespoons of butter on medium heat, stirring occasionally, until they are translucent. Add the squash and cook another five minutes, stirring occasionally. Season to taste with salt and hot sauce.
Spread the squash mixture into a buttered baking dish, pour in the broth and bake, covered, in a preheated 350º oven, about 30 minutes. Meanwhile, melt the remaining tablespoon of butter and mix it with the crumbs and panko to moisten. Stir the herbs into the breadcrumb mixture.
Raise the oven temperature to 400º. Spread the breadcrumb mixture over the squash mixture and scatter on the cheese. Bake another 15 – 20 minutes, until the cheese is melted and the crumb crust is starting to brown. Serve immediately.
Notes:
1. Butternut squash can be substituted for the kabocha.
2. If a richer dish is preferred, substitute 1/2 cup heavy cream for half the broth, and dot the crust with butter before baking.
Big Flavors Rating: 5 Stars