This post may contain affiliate links, which won't change your price but will share some commission.
I'm finally getting the hang of making brownies from scratch. The last batch I made (Starbucks Espresso Brownies) was great. They were the first brownies that I made without a box mix that we really enjoyed. So when the chocolate craving hit after dinner, I looked for a simple brownie recipe to remedy the situation. This recipe stood out to me because it said "one-bowl", which is a big bonus for cleanup. It also called for instant coffee or espresso. A chocolate fix and an extra caffeine kick at the same time? Sign. Me. Up. These were pretty easy to put together. I used a mix of semi-sweet chocolate chips and bittersweet baking chips (which gave me nice puddles of chocolate, just like the Melt-in-Your-Mouth Buttermilk Chocolate Cookies that I made a few years ago). These were a huge late-night hit, and I'll definitely be making them again!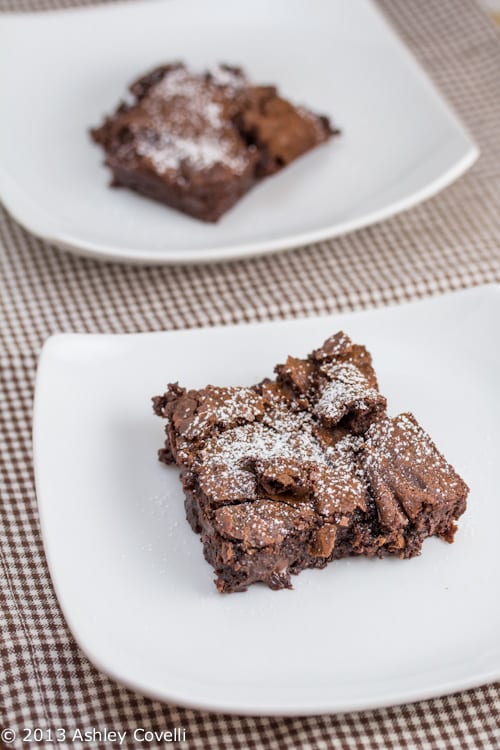 One-Bowl Mocha Brownies
Leite's Culinaria
Makes 12 brownies
2 ounces semisweet or dark chocolate chips or chopped chocolate
1 stick (4 ounces) unsalted butter, plus more for the baking dish
2 cups semisweet or dark chocolate chips or chopped chocolate (about 12 ounces)
1 cup granulated sugar
1 teaspoon vanilla extract
½ cup all-purpose flour
2 tablespoons cocoa powder
½ teaspoon salt
2 large eggs
1 tablespoon instant coffee or, for a more robust taste, espresso granules
1. Preheat the oven to 350°F (176ºC). Butter an 8-by-8-inch glass baking dish.
2. In a large microwavable bowl, add the chopped semisweet chocolate, butter, and 1 cup chocolate chips or chopped chocolate. Microwave on high for 1 ½ minutes. Whisk together the melted butter and chocolate.
3. Whisk in the sugar, vanilla, flour, cocoa powder, and salt. Let cool for just a minute or so, then whisk in the eggs and instant coffee or espresso granules. Whisk for about a minute, or until the batter is smooth. Fold in the remaining 1 cup chocolate chips or chopped chocolate. Scrape the batter into the baking dish.
4. Bake the brownies for 22 to 25 minutes. You can try to check the brownies for doneness by inserting a tester or toothpick in the center, although since they have chunks of chocolate, you can't really be certain with this method. You may need to guess a little and leave them in the oven a touch longer if you like them less gooey. Let cool slightly in the pan on a wire rack before cutting and serving.
Big Flavors Rating: 5 Stars