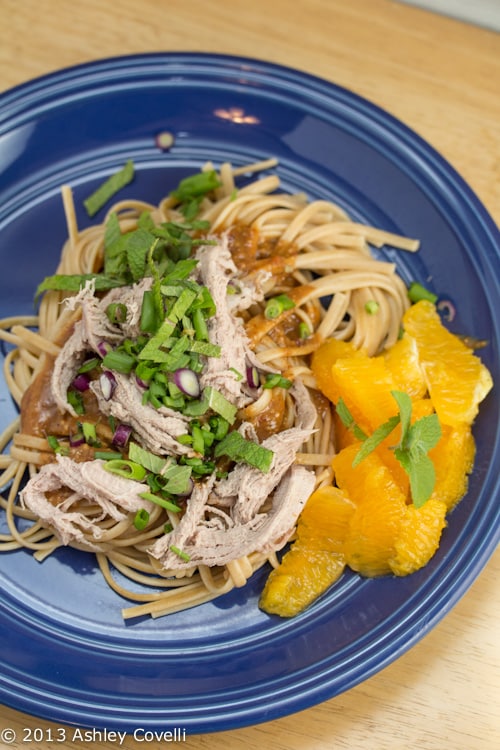 Noodles with Roast Pork and Almond Sauce with Honey Oranges
This post may contain affiliate links. Thank you for supporting the brands that keep me creative in my tiny kitchen!
For our dinner party's main course, I made one of our favorite recipes from Cooking Light. It's such a great dish, and I use whole wheat fettuccine which works really well with the texture of the sauce if you use almond butter. The sauce has just the right amount of heat, and the pork is incredibly tender. The honey oranges are the perfect accompaniment to it – nice and refreshing. And the mint and green onions brighten the entire dish up. Our friends raved about this dish! I doubled the recipe, as Dino and I usually polish the whole thing off between the two of us when I've made it in the past.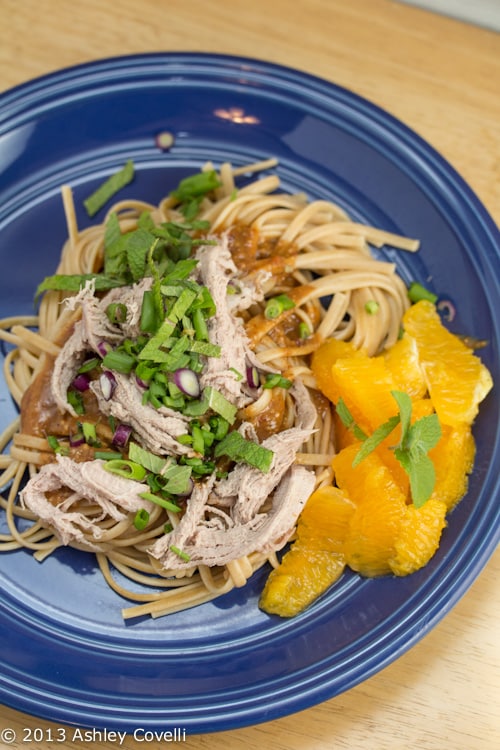 Noodles with Roast Pork and Almond Sauce with Honey Oranges
Cooking Light October 2009
Yield 4 servings (serving size: about 1 1/2 cups)
½ teaspoon canola oil
½ pound pork tenderloin, trimmed
½ teaspoon salt, divided
¼ teaspoon black pepper
8 ounces uncooked fettuccine*
¼ cup almond butter
2 ½ tablespoons low-sodium soy sauce
2 tablespoons rice vinegar
1 tablespoon minced peeled fresh ginger
1 ½ teaspoons chili garlic sauce
1 cup thinly sliced green onions
⅓ cup finely chopped fresh mint
1. Preheat oven to 425°.
2. Drizzle oil in an ovenproof skillet. Sprinkle pork with 1/8 teaspoon salt and pepper; place pork in pan. Bake at 425° for 10 minutes. Turn pork over, and bake an additional 10 minutes or until a thermometer registers 155°. Place pork on a cutting board; let stand 10 minutes. Shred pork into small pieces.
3. Cook pasta according to package directions, omitting salt and fat. Drain pasta in a colander over a bowl, reserving 2 tablespoons pasta water; keep pasta warm.
4. Combine almond butter, 2 tablespoons pasta water, remaining salt, soy sauce, vinegar, ginger, and chili garlic sauce. Divide pasta evenly among 4 bowls; top evenly with sauce, pork, onions, and mint.
For the Honey Oranges:
Peel and section 4 large oranges over a bowl, reserving excess juice. Combine juice, 1 tablespoon of honey, and a dash of ground allspice; stir with a whisk. Add orange sections to honey mixture, toss to coat.
Wine note: With a hint of candied nut to complement the almond flavor in this recipe, Hardys Stamp of Australia Chardonnay 2008 ($7) makes a great value pairing. Clean citrus and baking spice notes highlight the dish's pepper and ginger flavors. For the best value, grab the 3-liter box ($19) –Jeffery Lindenmuth
*Optional: use Gluten Free
Nutritional notes:
Calories: 398
Fat: 12.7g (sat 1.9g,mono 7.2g,poly 2.3g)
Protein: 22.7g
Carbohydrate: 49.3g
Fiber: 3.7g
Cholesterol: 34mg
Iron: 3.7mg
Sodium: 763mg
Calcium: 83mg
Big Flavors Rating: 5 Stars