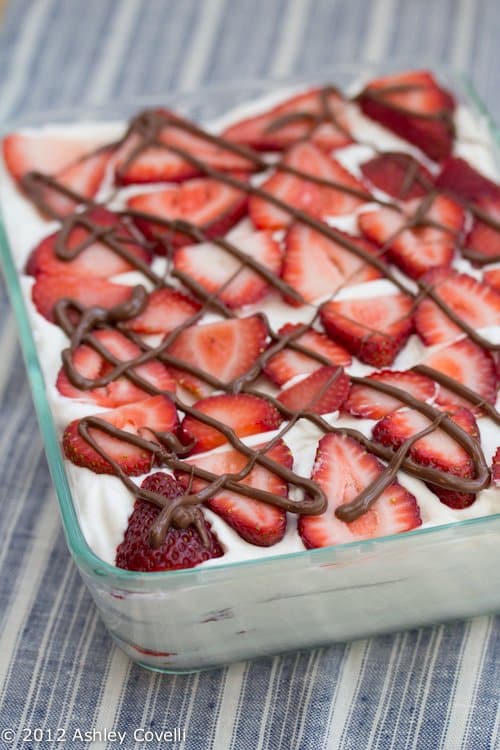 I saw this icebox cake recipe over on Pinterest, and thought it looked like a great, easy dessert to make for my in-laws. It was super simple, and tasty for what it is, but I think next time, I'd like to try the original recipe from The Kitchn. I cut the recipe in half, and was able to do 3 layers of graham crackers. The only change I made was to microwave the chocolate in a bowl and then put it into a plastic bag. My in-laws loved it, so I consider it a success!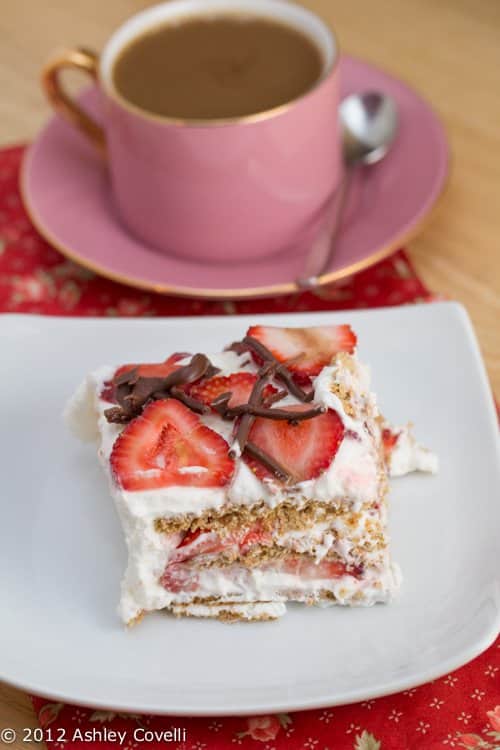 No-Bake Strawberry Icebox Cake
So, How's It Taste? (adapted from The Kitchn)
makes 12 servings
ingredients:
3 lbs. fresh strawberries, sliced
2 (8 oz.) tubs fat-free whipped topping (or use regular or light)
1 (14.4 oz.) box graham crackers
¼ cup milk chocolate chip morsels
directions:
1. Spread a small amount of whipped topping on the bottom of a 9x13-inch baking pan. Place 5 graham cracker sheets down the middle and break 2 more sheets into crackers to fit down the sides. Lightly cover the top of the graham crackers with more whipped topping and then a layer of sliced strawberries. Repeat three times, until you have four layers of graham crackers (you may be a few crackers short on the top layer, but that's ok). You'll end with a layer of strawberries on top.
2. Place milk chocolate chip morsels in a plastic bag. Microwave in 10 second intervals until melted. Snip the end of the plastic bag and drizzle chocolate over top of cake.
3. Refrigerate covered for at least four hours, or until the crackers have softened completely. Cake will last well for two days. It will still be good on the third day, but the strawberries will start to get juicy and leak into the whipped topping. It will still taste good, but it won't be as pretty.
Big Flavors Rating: 3 Stars