This post may contain affiliate links, which won't change your price but will share some commission.
This was the first recipe I found when looking for vegetarian tapas recipes. It ended up being the star of the party! The spices are so wonderful, and the sweetness from the golden raisins go perfectly with the spinach. The chickpeas make it a little heartier, which is great when you're eating meat-free. I didn't have hot paprika, so I used smoked paprika and added about ⅛t of cayenne. It was perfect.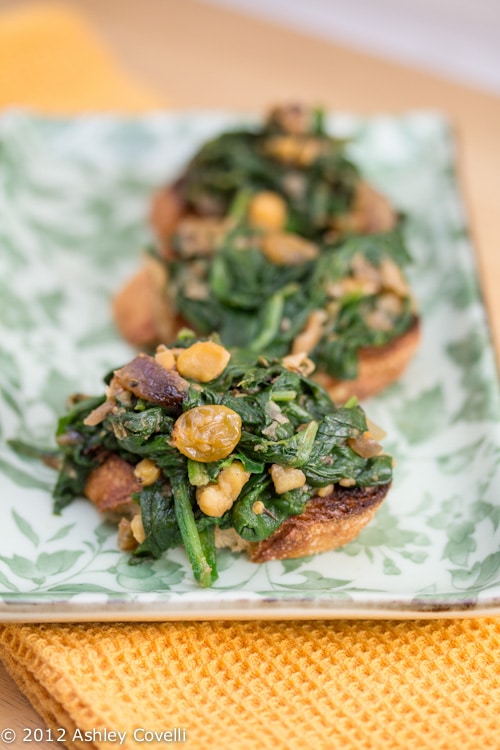 Spinach with Chickpeas
Eating Well March/April 2007
Enjoy this vegetable-rich nibble as they do in Spain, spooned onto small rounds of fresh or lightly toasted bread.
12 servings, about ½ cup each
Active Time: 35 minutes
Total Time: 45 minutes
2 pounds baby spinach
3 tablespoons extra-virgin olive oil, divided
1 medium red onion, finely chopped
5 cloves garlic, minced
1 19-ounce can chickpeas, rinsed
1 ½ teaspoons dried thyme
1 ½ teaspoons dried oregano
1 ½ teaspoons ground cumin
1 teaspoon kosher salt
½ teaspoon hot paprika
½ cup golden raisins
½ cup reduced-sodium chicken broth, or vegetable broth
Rinse spinach and let drain in a colander. With water still clinging to it, place half the spinach in a Dutch oven over medium heat. Cook, tossing with tongs and adding the remaining spinach by the handful until all is added and wilted, 6 to 8 minutes. Drain in the colander. Let cool slightly, then coarsely chop.
Carefully wipe out the pan, then heat 1 tablespoon oil over medium heat. Add onion and garlic and cook, stirring, until the onion is tender and lightly browned, 8 to 10 minutes. Stir in chickpeas, thyme, oregano, cumin, salt and paprika. Using a potato masher, mash some of the chickpeas, then cook, stirring, for 3 minutes. Stir in raisins and broth, scraping up any browned bits. Add the chopped spinach and stir gently to combine. Remove from the heat and let stand 10 minutes. Drizzle with the remaining 2 tablespoons oil just before serving.
Make Ahead Tip: Cover and refrigerate for up to 2 days. Bring to room temperature or reheat on medium-low heat before serving.
NUTRITION
Per serving: 120 calories; 4 g fat ( 1 g sat , 3 g mono ); 0 mg cholesterol; 19 g carbohydrates; 0 g added sugars; 4 g protein; 6 g fiber; 260 mg sodium; 67 mg potassium.
Nutrition Bonus: Vitamin A (50% daily value), Iron & Vitamin C (20% dv).
Carbohydrate Servings: 1
Exchanges: 1 starch, 1 vegetable, ½ fat
Big Flavors Rating: 5 Stars